We've had the Sony Xperia Z4 Tablet for review over the previous few weeks, and in case you missed that, you can find it here. Alongside the slate Sony announced the BKB50 snap-on keyboard dock which turns the the device into a compact Android ultrabook.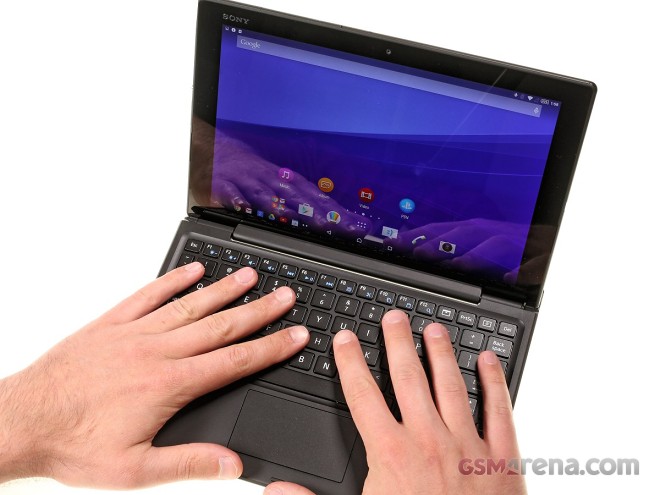 We received that one too, and got to spend a little quality time with it. You can read our impressions after the break.
The keyboard weighs 365g and thus the pair totals around 760g and 13mm. At the hinge it's slightly thicker, obviously. Sony claims you can get a month and a half of battery life out of the keyboard's 400mAh cell when used for 8 hours a day, but we had no practical way of confirming it.




Sony Xperia Z4 Tablet with BKB50 keyboard attached
The tablet fits securely in a cradle, which is hinged to the main body of the keyboard. The hinge is quite tough to turn without a tablet inside, but that's not how it's meant to be used and with the Z4 Tablet attached, the force is just right. The entire assembly clicks positively in the closed position and offers up to 130° tilt angle when fully open.
The keyboard communicates with the tablet via Bluetooth and the initial pairing can be done via NFC by touching both devices or manually in the Bluetooth settings of the tablet. The keyboard apparently has a sensor in the hinge, which sends the tablet to sleep when closed, and wakes it up when opened.





BKB50 keyboard layout and controls
The BKB50 has a full QWERTY layout with a number row and function key row. The key spacing is roughly 16mm, as opposed to the 19mm of the regular full-sized keyboard but it's still comfortable to use and there's no room for comparison to an onscreen keyboard. You also get keys that double the onscreen Back/Home/Task buttons.
It's a chicklet-style keyboard and the keys have adequate travel and offer positive feedback, despite the slim profile. There's also a nice touchpad with button areas on the bottom, but not actual discrete buttons.
We presume the keyboard will be launched parallel with the Xperia Z4 Tablet. However, unlike the slate itself, which is available for pre-order at €579/£499, no list price of the keyboard can be found online just yet.