Sony has announced its new augmented reality glasses, called the SmartEyeglass Developer Edition SED-E1. The glasses pair with your Android smartphone and show information from the phone on the glasses, along with showing information relevant to your surroundings using augmented reality applications.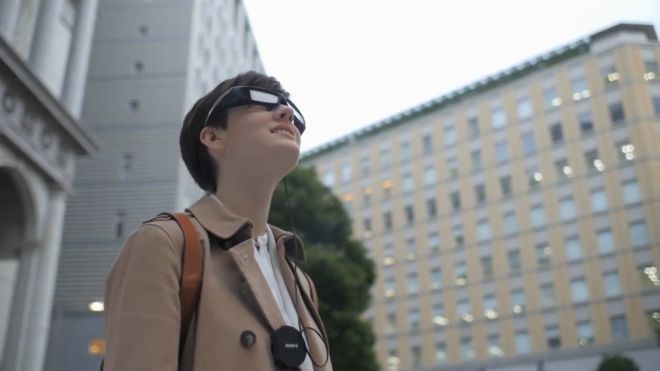 The SmartEyeglass uses holographic waveguide technology to create 3.0mm augmented reality lenses with a transparency rate of 85%. This means you don't need a display in front of your glasses, like on Google Glass, and the lenses themselves act as a display.
The glasses are connected to a module with a cable. The module pairs with your smartphone over Bluetooth and Wi-Fi and incorporates the brains of the system, along with the battery and controls. Unlike Google Glass, there are no controls on the SmartEyeglass themselves, and everything has to be controlled from the wired module. It also includes a speaker and a microphone where you can speak your voice commands and search queries. The module has a short cable so it has to be attached somewhere on your shirt or top.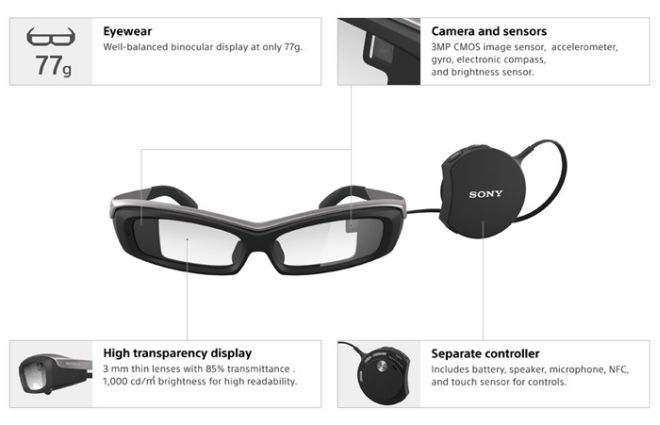 The SmartEyeglass has a built-in 3 megapixel camera, along with multiple sensors, such as accelerometer, gyroscope, electronic compass, and brightness sensor. The camera, along with being able to take pictures, also enables the augmented reality functionality, which allows the glasses to see your surroundings and with the help of relevant AR apps present relevant information in your field of view. So for example, if you are a mechanic, you can get step by step instructions on assembling an engine right on your glasses, or if you are sight seeing, the glasses can show you information related to what you are seeing.
The thing is, for special use cases the SmartEyeglass will work out quite well, but for everyday use it is a catastrophically dorky device that most people would never want to be seen wearing (watch the video below to get a better idea). The glasses alone wouldn't have been that bad but the wired module hangs below and clips to your clothes, looking extremely stupid. It makes Google Glass look elegant in comparison, which itself was said to be far too nerdy for most people.
Sony plans on selling the SmartEyeglass Developer Edition SED-E1 to developers in Japan, United States, United Kingdom, and Germany through developers.sonymobile.com this month. Enterprise users will be able to purchase the device in France, Italy, Spain, Belgium, Netherlands and Sweden from March onwards. Pre-orders have already begun in UK and Germany. It will be priced at JPY 100,000, USD 840, EUR 670 or GBP 520 (excluding taxes), depending on the country of sale.
Sony has also released the SDK 1.0 for developers to make their apps compatible with SmartEyeglass and to create new ones. The SED-E1 is compatible with Android 4.4 and above.