Yesterday we got some potentially bad news for Europe – that the Galaxy S4 version in sold in Sweden will use the Snapdragon 600 chipset instead of the Exynos 5 Octa that geeks were hoping for. The same version will be sold in North America. However, then we saw some reassuring benchmarks and now we can add one more.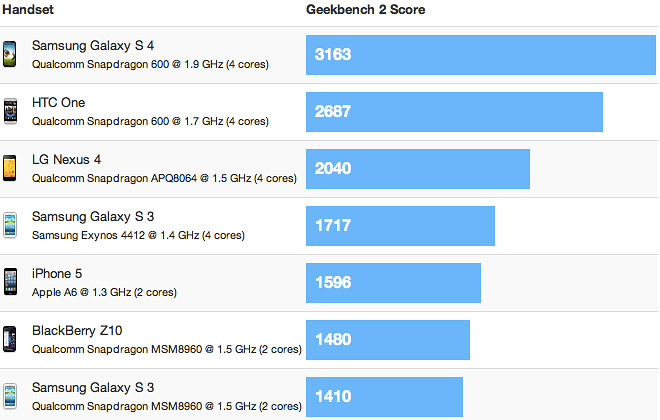 Primate Labs, makers of the Geekbench app took interest in the Samsung Galaxy S4 performance and made a chart to see how the new Galaxy flagship performs. Using data from a benchmark run by Android Authority, the Primate Labs chart shows that the S4 is over twice as fast as its predecessor.
It also beats the HTC One, which uses the same chipset though at a lower clockspeed (1.7GHz for the HTC, 1.9GHz for the Samsung). As for competition from other platforms, the Apple iPhone 5 scores almost the same as the BlackBerry Z10, both with about half the score of the Galaxy S4.
The Samsung Galaxy S4 used for the benchmark is the Qualcomm Snapdragon 600, meaning it uses slightly updated Krait 300 cores compared to the BlackBerry Z10 and the LG Nexus 4. Also note that the Galaxy S4 used for the benchmark has not been running finalized software.
As Primate Labs points out, the iPhone 5 will be updated soon and the iPhone 5S will improve performance and we'll have to wait and see how it stacks up. But the Z10 is it for BlackBerry, their other model coming this year, the Q10, uses a lower-end chipset.
Shame that we don't have a score for the Galaxy S4 version with an Exynos 5 Octa – the Cortex-A15 cores are supposed to blow the Kraits out of the water, battery willing.