Snapchat has added a new feature in the latest update of the app for iOS and Android, which is called Discover. With this, you can now access content from service such as Yahoo News, ESPN, National Geographic, MTV, Daily Mail, and Snapchat's own network.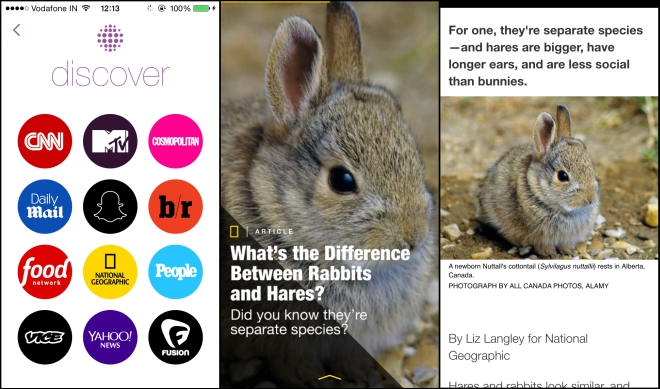 Snapchat has been working with media companies to be able to deliver content that fits into Snapchat's format. With the latest update, you can now choose from any of these services, and then see the content within the app. The content appears in the form of short video clips, and you can swipe up to either see a full video, like on, say, National Geographic or MTV, or read the associated article, like on Yahoo News. Snapchat also has its channel, where you can get updates from events happening around the world, such as the current winter storm Juno happening in the western hemisphere.
All this is not free though, as there will be advertisements within the content provided by the media outlets, which will be the first time Snapchat tried to monetize its service.
Another thing added in the latest update is a barcode like image that you can share with others for them to add you as a contact. People can just open their Snapchat app and scan the image to instantly add you as a contact.
The update is now available on iOS and Android on the App Store and Google Play, respectively.