Smartwatches seem to be all the rage at the moment – in hype if not in market value. But the latter is expanding and people seem to be considering them more and more as they progress in features and in style.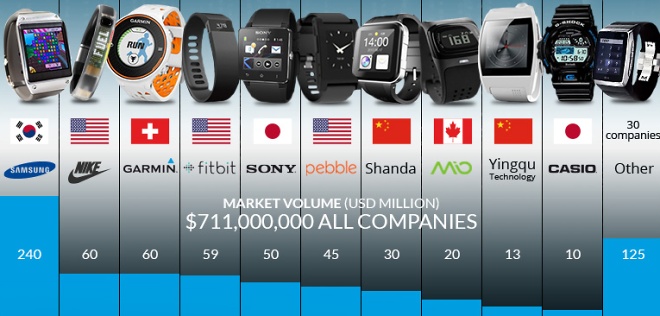 When Samsung got into the game with its Galaxy Gear to match and surpassed the Sony SmartWatch series and various fitness-oriented manufacturers like Nike and FitBit we all thought it was a nice but non-polished effort. Now that there are Pebbles and Gear 2 and Gear Fit are out there, the market seems ripe and ready. Motorola's Moto 360 seems the tech junkie's dream and all eyes are on Apple's coming iWatch. But what do the numbers say?
An infographic by DreamChrono aims to put those mobile accessories in the spotlight and offer some order to the chaos. We see smartwatches divided into market share (for 2013), we see what money there is in the segment and also what are the most sough-after features of a smartwatch.
Last year saw Samsung take a commanding 34% share among smartwatch makers. That translates into 800,000 units shipped and $240 million made for Samsung. In comparison a total of 30 other companies (excluding Samsung, Sony, Pebble, FitBit and Nike) have shipped 450,000 and earned $125 million.
Fitness-tracking company FitBit has shipped 450,000 smart band accessories and earned $59 million while Pebble (which has the Pebble and Pebble Steel smartwatches) has 300,000 under its belt with a revenue of $45 million. Sony has shipped 50,000 unit less than Pebble but earned $5 million more.
The total market size was sitting on around $711 million and the projection is for a $12 billion smartwatch market by the end of 2015. The most desired features of a smartwatch have been medical health, wellness, communication and others.
The most buzzing smartwatch is the Moto 360 while the most awaited is the Apple iWatch. Strangely enough, LG's G Watch isn't even in the running. Take a look at the infographic in its entirety.