Skype announced a new promotion today for its users in India. For a limited time up until March 1, 2015 (00:01 IST) all new and current Skype users in the fast-growing India market will be able to benefit from the offer. Interestingly enough calls can be both personal and business, but certain limitations do apply to prevent abuse of the service.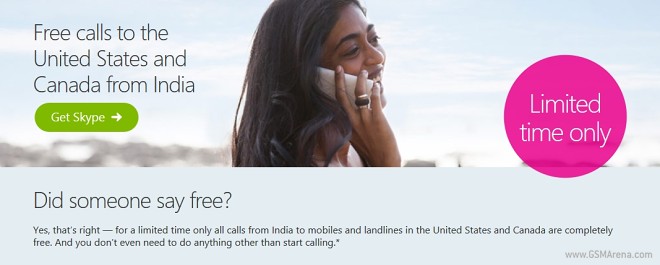 You can read the entire terms and services on the promotion page, but unsurprisingly Skype have taken steps to prevent unwanted telemarketing and spam throughout the promotional period. The following are not considered fair practices:
• Making calls for telemarketing or call centre operations;
• Re-selling minutes;
• Sharing minutes between users whether via a PBX, call centre, computer or any other means;
• Calling numbers (whether singly, sequentially or automatically) to generate income for yourself or others as a result of placing the call, other than for your individual business communications (and subject to Section 4.1 of the Terms of Use); and
• Unusual calling patterns inconsistent with normal use, for example, regular calls of short duration or calls to multiple numbers in a short period of time.
Skype has been fairly active both in marketing its services to new broader markets as well as improving on available functionality. This news comes just hours after the announcement of the preview of the Skype Translator – the exciting service that will allow real time translation of Skype calls. It seems that Microsoft is putting extra effort in the VoIP service and we might well be seeing a lot more surprises from it in the near future.