One thing that has so far differentiated Skype from other messaging services such as WhatsApp or Viber is the latter two's focus on using your phone number as an identifier. That, though, is about to change.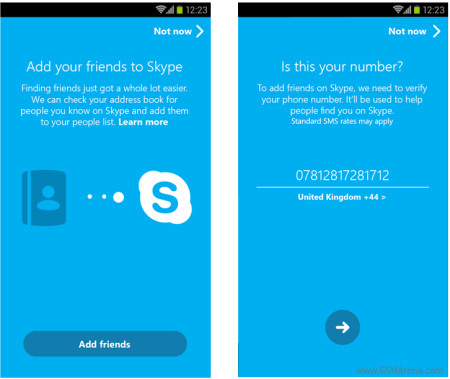 Microsoft has just announced that the next version of Skype for Android will be able to add people from your phone's address book.
This works by prompting users to enter their phone number in the new app and associate it with a particular Skype account. Once Skype knows which phone number is yours, it will scan any other user's Contacts app for it, and if it finds your number in there, then it will add you to that person's Skype list. It basically uses phone numbers to allow for easier connections with people on Skype itself.
And obviously those contacts in your phone's address book who are also Skype users will show up for you automatically. The app will scan your phone's Contacts from time to time, adding new people as they either join Skype or link their phone number. You will however be able to choose whether you want this to happen or not, through Skype's settings on your Android device. And your phone number won't be publicly shown on your Skype profile. If at any point you won't want to be found by your phone number anymore, you'll be able to remove it from your account.
If you use a Microsoft account to sign into Skype, the new feature will even connect with other address books such as those from Outlook.com and Windows 8.
For all of this to work, you'll need to have Skype 5.0 for Android (or a later version), and quite a bit of patience. The prompt to associate your phone number with your Skype account should show up for you sometime "in the coming months". We assume this will be a staged rollout of sorts, so it might take a while before you can use the new functionality.