Yet another 3rd party web browser stormed the App Store yesterday. SkyFire 2.0 was made available yesterday, allowing iPhone users to enjoy Flash-videos without a jailbreak for the first time.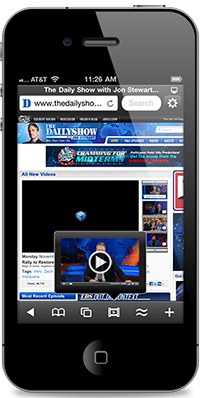 Of course it's not quite the real thing, but it's about infinite times better than what the native Safari offers in this aspect. The magic is done by the Skyfire servers that automatically convert embedded Flash videos to HTML5 before streaming it to the iPhone.
There are also some other cool extras that Skyfire offers like Facebook and Twitter sharing, desktop mode (where the client identifies itself as a desktop browser so you are not treated to mobile versions of web sites) and related content.
You can check out Skyfire 2.0 in action in the following video.
Now for the bad news – unlike most of its competitors the Skyfire browser doesn't come for free. The download will cost you 1.99 US dollars.
What's even worse is that even if you do want to part with the money you cannot get it right now. Apparently the developers underestimated the demand and their servers couldn't handle the traffic of the early adopters so the app is currently suspended from the App Store. Once they solve the server issues though it will be back online.
Then.. there's this other place to get it from if you've got a jailbroken devce. Happy browsing!