If you have been keeping track, you'd know that we are currently extensively testing the Samsung I9100 Galaxy S II battery life. Today's discipline is web browsing endurance, which, as our recent survey found out, is one of the key usages of modern day mobiles.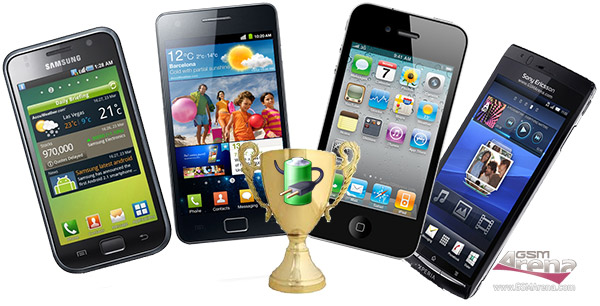 And just for the fun of it, we decided to make this one more competitive by including some other handsets we found lying around the office. So here are the contestants – we've got the iPhone 4 with its Safari browser, as well as some more droids – the original Galaxy S, the LG Optimus Black and the Sony Ericsson Xperia Arc.
Here's how we tested – we created a special script that would go through several static pages with no Flash elements (so that each handset was treated equally), loading a new web page every 10 seconds. We served the web pages off a local server and over a local Wi-Fi connection to prevent any disparities due to poor signal or high network latency. We set the brightness of each handset to 50%, made sure the auto-dim and auto turn-off features are disabled and waited for the battery of each handset to die.
At the end of the day the Apple iPhone 4 turned out to be head and shoulders above its competitors. The smartphone lasted the incredible 7 hours and 40 minutes on a single charge. The Sony Ericsson Xperia Arc came in second achieving 5 hours and 25 minutes, while the LG Optimus Black grabbed a podium finish with 4 hours and a half.
The main subject of our test, the Samsung I9100 Galaxy S II, ranked forth with 4 hours and 22 minutes of web browsing enough to bring its battery from full to flat. It still managed to outdo its predecessor by 16 minutes though.
However since Samsung are using GPU acceleration for the I9100 Galaxy S II default web browser we thought this might be reason why it fares worse than its peers in this test. That's why we loaded an alternative browser on the device and repeated the test. It could or could not be the GPU, but the fact is, the Galaxy S II scored a a minute under 5 hours of the same test when we used Opera Mobile instead of the stock browser. Of course you won't be able to enjoy 1080p video content with that one, but it's good to know that you have the choice.
Update: We also managed to put the Tegra 2-packing LG Optimus 2X through this test. The first dual-core smartphone lasted for 4 hours and 54 minutes, which was better than its single core sibling, the Optimus Black managed.
Here are the formal findings from the test:
Web browsing battery life test:
Apple iPhone 4 – 7:40 h
Sony Ericsson Xperia Arc – 5:25 h
Samsung I9100 Galaxy S II – 4:59 h (Opera Mobile browser)
LG Optimus 2X – 4:54 h
LG Optimus Black – 4:30 h
Samsung I9100 Galaxy S II – 4:22 h (stock browser)
Samsung I9000 Galaxy S – 4:06 h
So what do you say? Do you browse for hours on end on your cell phone?