User 'dragon974′ of the droidrazr.com forums had some interesting images to share with his fellow Droid users yesterday as the screens released show what could well be a build of Android 4.0.3 running on his Motorola Droid RAZR.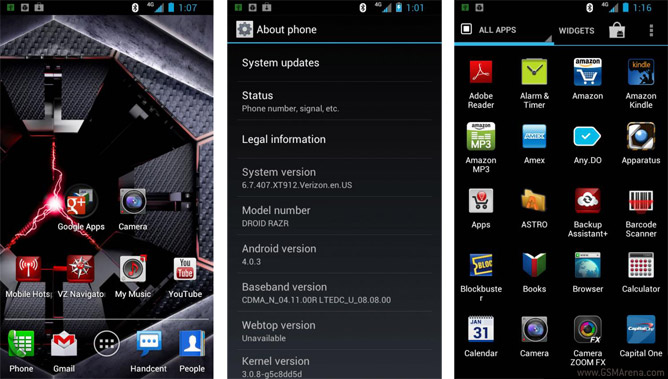 Despite Motorola's Ice Cream Sandwich update timetable marking both the Droid RAZR and RAZR MAXX with a simple 'further details to follow', this latest discovery could well mean the impending release of Android's latest iteration to these devices.
Of course there's always chance of such screens turning out to be complete forgeries, but we're inclined to take the bait as the timing feels right. Based on Motorola's update schedule, both of Verizon's RAZR and RAZR MAXX updates are in the 'Planning & Evaluation' stage, as such it would not be completely ridiculous to expect such releases to officially surface any day now.
The screens seen here not only detail the RAZR as running Android 4.0.3, but Verizon-specific bloatware is very much intact in some of the shots too. For those that are still not convinced, head on over to the source link for a full screenshot blowout, including dialler and camera UIs along with more of that general ICS goodness mixed with a dash of typical Droid RAZR.
Let us know if you hear anything before we do too, namely from your RAZR's notification tray.