It's not often that we come across exclusive game titles for Android. The only other Android exclusive title we have reviewed so far was Puddle THD, which is in fact so exclusive that it only runs on NVIDIA Tegra devices.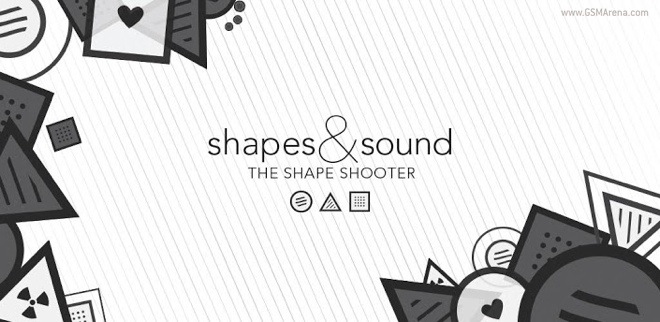 Today we have for you the review of Shapes & Sound: The Shape Shooter, a new 2D action game available only on Android. The game looks interesting and seems to be getting a lot of positive feedback. So let's see how good it really is.
Title

Shapes & Sound: The Shape Shooter

Developer

ARRG Studios

Platform

Android

Release Date

February, 2013

Content Reating

Everyone

Size

7.6MB

Price

$0.99
Gameplay
Shapes & Sound: The Shape Shooter is a 2D action game based on shapes and sounds, but mostly shapes. You deal with three shapes in the game: square, triangle, circle. Your shape is in the center of the screen and you can choose to be either of the three. You have the option of switching on the fly by swiping left, up or right to transform to the aforementioned shapes, respectively.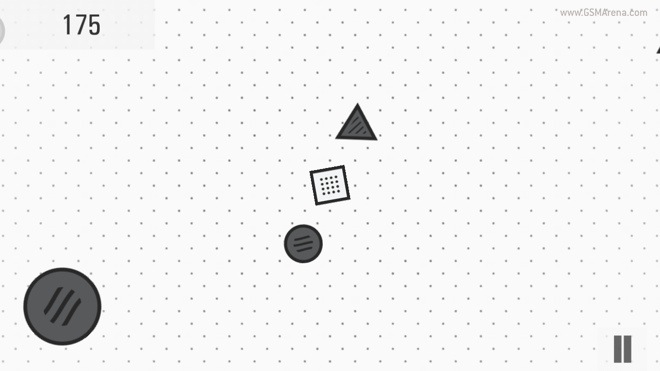 As soon as the game begins, objects from either of the three shapes fly in from around the edges of the screen towards you. Your objective is to tap in their general direction to shoot them down. If you choose to be a circle, you will have to shoot down the squares and the triangles and vice-versa for the other shapes. Meanwhile, you have to absorb objects that resemble your current shape.
Absorbing and shooting shapes gives you points, although you get more for shooting that for absorbing. You can quickly change shape on the fly during the game, which changes which shapes you have to absorb and which you have to shoot. If you don't shoot objects of other shapes, they will eventually collide with you, causing you to take damage. Take enough damage and the level ends. Your objective is to stay alive as long as possible and score as much as possible.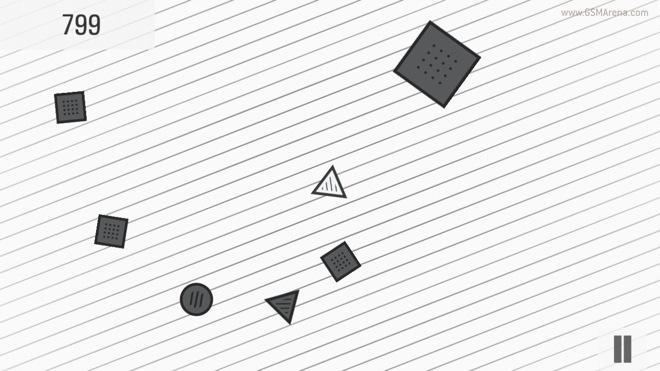 To make things interesting, the game occasionally throws in shapes with other abilities. There are some that explode when you shoot it, so you have to do it when they're at a distance. There are some, when absorbed, give you additional health. Some are enormous in size, which means you have to shoot them more than once to take them down, not easy when you have a dozen shapes flying in from all sides.
When you absorb enough shapes, you get a temporary special ability. In case of the circle, you can release an energy blast that takes out every thing on the screen. With the square, you get a force field around you that destroys anything that touches it. With the triangle, the time slows down for a while, letting you shoot everything easily.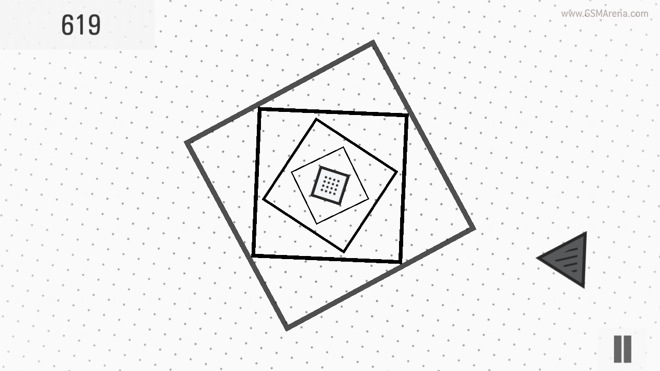 The game can get quite frantic, when you have several shapes flying at you and you're running out of health. However, I did not find much reason to change between shapes and often I would stick to the default shape that you get at start. Also, the game does not evolve much as you keep playing and the challenge remains more or less the same, which means eventually it becomes a test of your patience rather than your skills.
Personally, I'm a big fan of endless games, such as Temple Run, Canabalt, Jetpack Joyride, Super Hexagon, etc. where there is no end and you keep playing as long as you can. But with Shapes & Sound: The Shape Shooter, the game doesn't really reward you well for extended sessions, so it tends to get a bit boring after a while and you don't really feel like going back for another round.
Visuals and Sound
Shapes & Sound: The Shape Shooter uses simple but very effective 2D visuals. The animations and art design is very good and comes across as being very attractive even through its minimalism. Only problem is with the UI, which features tiny menu buttons that look like they were designed for tablets and feel quite small even on the 4.8-inch display of a Galaxy S III.
The sound is also done very well. The game has a nice background music that actually switches every time you change the shape and each shape has its own music. The music is very calm and relaxing, which contrasts nicely with the often frantic gameplay. The various sound effects in the game are also done well.
Verdict
Shapes & Sound: The Shape Shooter is a simple and fairly enjoyable 2D action game with some lovely visuals and sound. Problem is that it's a bit too simple, which means it has a harder time holding your attention and doesn't encourage a lot of repeat sessions. Still, for just $0.99, it's worth a look if you're looking for a quick distraction.
Rating: 7/10
Pros: Simple gameplay, attractive visuals and soothing music
Cons: Gameplay lacks variety and doesn't evolve well, tiny menu buttons on smartphones