Hate when your phone vibrates, and then you fetch it out of your pocket, only to see that someone liked a comment on a Facebook image that you gave a thumbs up to?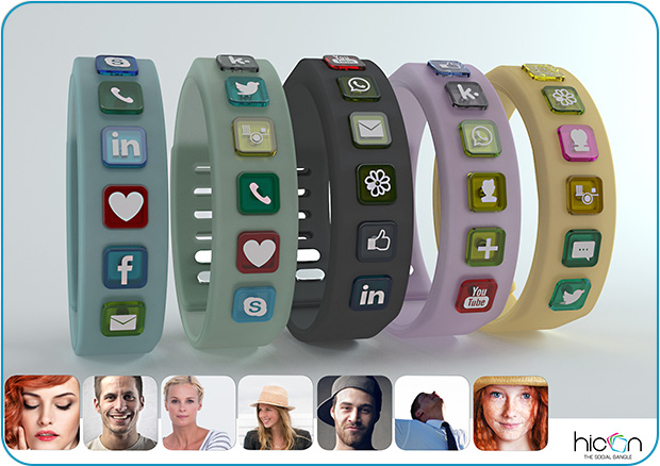 Well Hicon is a funky wearable that looks to remedy that problem.
You can outfit the Hicon with your choice of charms that feature the logos of popular social media and smartphone messaging applications. The wearable pairs with your phone over bluetooth and each charm will vibrate and light up when there is an alert for its correlating application.
Hicon also has some other cool features. Let's say you meet someone in a bar and want to become Facebook friends with them? Bump fists with another Hicon wearer, and voila! You've exchanged your contact information. This works for other applications as well. Hicon also has a companion app that takes your location data and tries to match you with other users who have similar social profiles.
The wearable will be compatible with iOS, Android, and Windows Phone, is waterproof, packs an accelerometer, comes in a bunch of colors, and has a 14-day (more or less) battery life. Unfortunately, this nifty little piece of tech doesn't also function as a watch, so it might be a tough sell.
If you're interested in picking one of these up, it's not available yet. You'll have to fork over $49 to its IndieGoGo campaign and wait. For now, you'll have to check your phone (or use Android Wear) like the rest of us heathens.