The Saygus V2, or rather V Squared, is a rare bird of a smartphone. Its designers have focused on a few key areas, which typically ignite wars in the comments section, and delivered on them, at times even more than you could possibly know what to do with.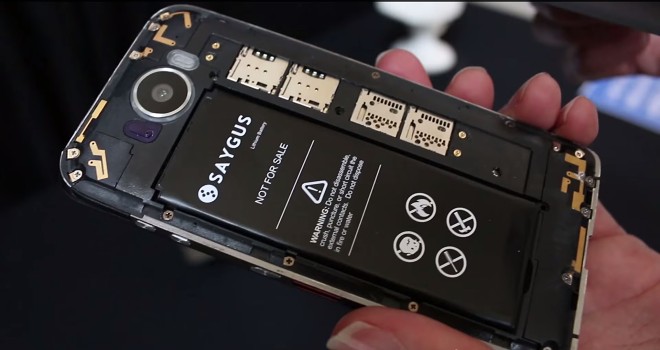 Only 5 days into the crowd-funding campaign on Indiegogo, the smartphone has already reached its million-dollar goal. Trying not to lose momentum, the team behind the V Squared has uploaded a series of short hands-on videos showcasing the smartphone's main selling points.
The built-in 64GB of storage not enough for you and you need a microSD card slot for your extensive multimedia collection? Well, here's two of those slots, each taking cards up to 200GB. Oh, and note the dual SIM slots too, and the 3,100 removable battery.
The fingerprint sensor on the V Squared has an interesting implementation. It sits on the side of the phone, and is of the swipe variety.
If you belong to the selfe-loving crowd, the 13MP front facing camera may tickle your fancy. Aside from boasting the highest pixel count at the moment (yes, a shared record with the already available HTC Desire Eye, and a few others), the front shooter has optical image stabilization. Well, the primary 21MP camera does too, but somehow it doesn't get a video of its own, go figure.
You can head over to Saygus' Youtube channel, where non-believers are given proof that the smartphone uses the USB-C interface and has wireless charging capability as well.
We'll see how the strategy of throwing every feature you can imagine in a single device plays out. Judging by the Indiegogo campaign alone, Saygus might have actually struck gold.