Only earlier this month Sandisk announced their latest offering for removable mobile storage, an impressive 64GB micro SDXC Ultra series number that was said to offer class 6 performance.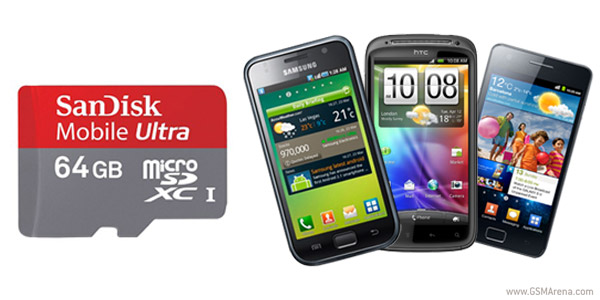 That class 6 rating means we should see minimum write speeds of 6MB/s and theoretically, promising transfer speeds of up to 30MB/s. The news of the card's existence at all is all well and good, but it comes with a disclaimer of sorts. No current generation mobile devices have been designed with 64GB micro SD cards in mind, so far, 32 has been the pinnacle, so how do we know whether it will be at all compatible?
Thankfully there was no chance of us having to wait around for a future device in order to see whether we could make use of he extra space and one gentlemen from Android NZ took it upon himself to demonstrate that the new card can work to near perfection in several current-gen handsets.
As you'll see, the Samsung Galaxy S II is the guinea pig in this video and it doesn't bat an eyelid, neither does the HTC Sensation or even Sammy's old flagship the Galaxy S, but see for yourself.
Besides the minor camera hiccup, it looks like a viable solution for those who like to max out mobile memory with their libraries of content. Bearing in mind the three devices mentioned covered both Froyo and Gingerbread builds, there's a good chance that a whole heap more devices will accept Sandisk's new top card.
What do you think? Overkill that you just don't need, or the savior of mobile memory solutions you've been waiting for?
Thanks to you guys for sending this in.