We got to spend some time with Samsung Smartphone GamePad accessory and got some pictures as well as some impressions for you guys.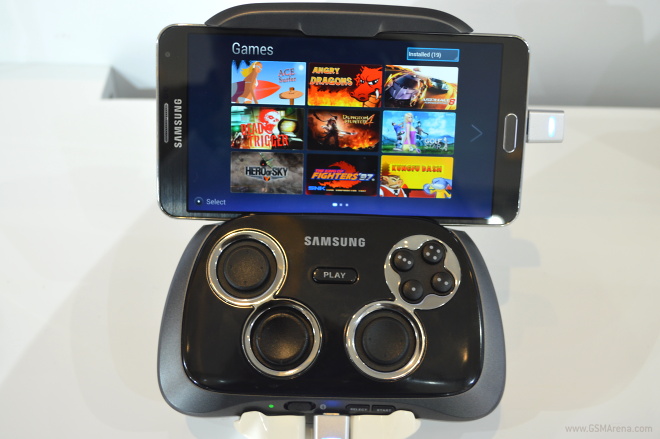 The GamePad wirelessly connects to any Android device from 4″ to 6.3″ and as you can see snuggles the Galaxy Note 3 pretty comfortably. It works over Bluetooth 4.0 and you can take advantage of the built-in NFC for easy pairing. The GamePad has two analogue sticks, one directional pad, four action keys, 2 trigger buttons on the top and a start select button.
The Samsung Smartphone Gamepad has a built-in battery, which can charge a device via microUSB. The GamePad takes some getting used too but by the time you learn the controls feels incredibly comfortable to play with and along with the mount provide excellent gaming experience (not all titles though – some are simply designed to use touch).



Samsung's Android Wireless Gamepad
The sticks have a soft-touch feel to them while buttons are clicky with great feedback. Balance feels great even with the big Galaxy Note 3 attached.




Samsung's Android Wireless Gamepad
There are grips on the back of the GamePad, which enhance the feel in the hands. The gamepad feels okay at 195 grams but adding a hefty device on top can become a bit tiring on the hands.




Samsung's Android Wireless Gamepad
As Android is built around versatility there are many games that excel with the Gamepad – Asphalt 8 and Dead Trigger and just some that pop to mind and are enhanced by the added controls.