While many Android vendors have switched to Chrome and the default and only web browser out of the box on their phones, Samsung maintains the heavily-customized Internet app. Tizen Indonesia has revealed that the app will be rebranded Samsung Browser and will be available on all Samsung platforms.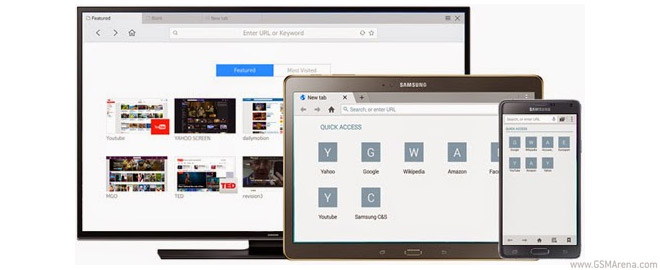 This covers everything from phones and tablets (Android and Tizen) to TVs.
Version 1.0 of the Samsung Browser will be based on WebKit. It will lack Flash support, using HTML5 video instead. The Web Video Casting will support 2015 TVs (with some exceptions) and will offer Chromecast-like functionality, while the Samsung Video Enhancing Engine will process videos on TVs for improved look.
The Samsung Browser also supports reader mode (simplifying the web page to remove distractions) and saving pages for offline viewing. It will work S Pen (presumably on devices that have it) and will suggest local content.

For the next version, the company will make the switch to Blink – the WebKit fork supported by Google and also used by the latest Opera versions. Samsung has also partnered with Mozilla to create the new-generation Servo engine, which is designed from the ground up to work on multi-core processors (that one is probably a few years out though).