UK residents who have purchased (or plan to purchase) a new Galaxy S III or Galaxy Note can send their old phone to Samsung for a new Galaxy Tab 2 tablet.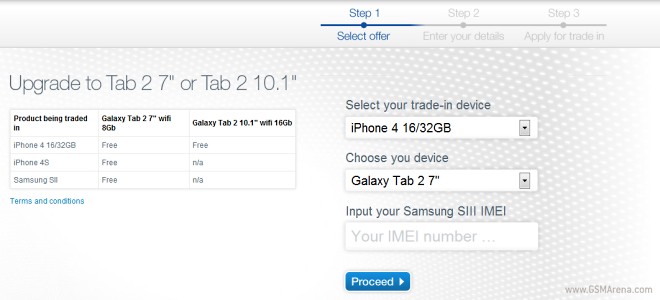 Currently, the only trade-in devices accepted are the iPhone 4/4S and Samsung Galaxy S II, although there are plans to add additional devices as early as next week.
You can check whether your device qualifies by entering your IMEI number on the offer website, although whether you qualify for a free Tab 2 or a highly discounted one depends on the condition of your trade-in. For the full breakdown on the, check out this pdf, while a FAQ without so much legal talk can be found here.
The offer is available until September 10th, so if you've upgraded to a new S III or Note and are wondering what to do with your old phone, this might be something to consider.
Thanks, insideman17!