Well, it was a nice dream but it's time for a wake up call – a representative from Samsung US contacted us and clarified that the Samsung Galaxy Tab 2 10.1 will have a dual-core processor and not a quad-core as yesterday's rumor claimed.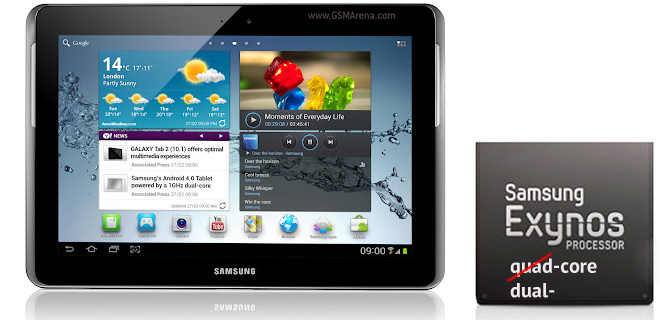 Here's what the company representative told us: "The US version of 10.1 tablet will still have a dual-core CPU and it's still shipping on May 13th, with pre-orders starting on May 4th."
You'll notice they talk about the US version – but a Samsung US representative probably wouldn't comment on the international version, so don't take it as a hint that the international version of the Tab 2 10.1 will have a quad-core processor.
The rumor however stated that both the Tab 2 10.1 and the Galaxy Note 10.1 are getting their CPUs upgraded. But then, the Galaxy Note 10.1 is yet to be announced for the US market, which explains why the Samsung representative didn't comment on that part of the rumor.
Still, they didn't officially dash our hopes either, so there's still a chance that the Samsung Galaxy Note 10.1 will have a quad-core processor. We'll just have to wait and see.