Samsung is trying to gently enter the Android-powered console market using the Game Pad. The company was showing off the Galaxy Tab 3 8.0 Game Edition, which comes bundled with the Game Pad accessory and an HDMI adapter.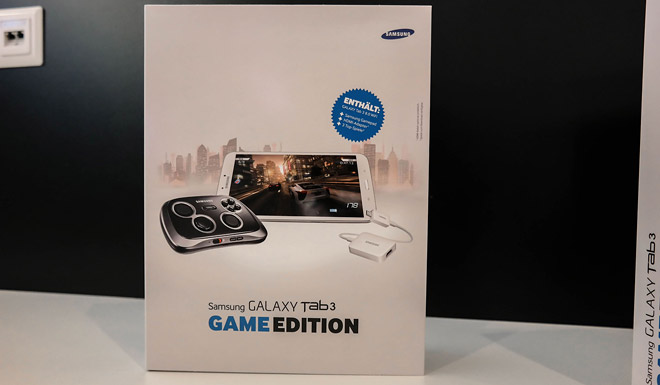 That's right, while the Game Pad can hold phone ranging from 4″ to 6.3″, it cannot hold tablets, not even 7″ ones.
They would be too heavy for handheld gaming anyway. The idea here is that the Tab 3 8.0 is attached to a TV as a console (via the HDMI adapter) and you play from a distance using the Game Pad (which connects over Bluetooth 4.0).
You can, of course, do the same setup with any other Galaxy device running Jelly Bean and above (to support the Game Pad). It's not like the Tab 3 8.0 is a performance monster with its dual-core Cortex-A9 processor and Mali-400 GPU. It would have a hard time competing with the €100 or so Ouya.
The interesting thing then is the cost of the bundle – the Galaxy Tab 3 8.0 costs €225, the Game Pad is €80 and the HDMI adapter is around €20, so anything around €300 and less will be a good deal. Here's hoping Samsung releases a bundle with just the Game Pad and HDMI adapter for people who already own a more powerful Galaxy device.