Samsung has just announced an interesting addition to its lineup of point-and-shoot cameras. Called Samsung EX2F, the new digicam features a large (by compact camera standards) 1/1.7″ 12MP sensor and a really bright F/1.4 Schneider-Kreuznach zoom lens.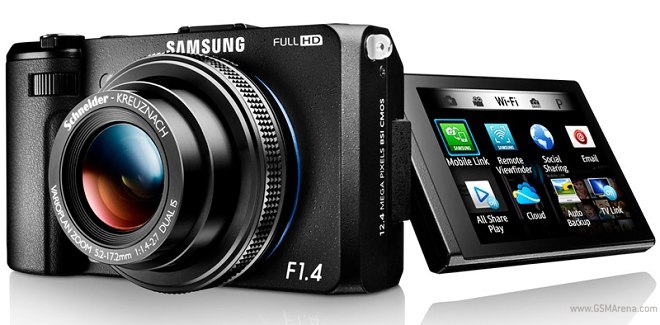 The Samsung EX2F lens covers the modest zoom range of 24-79mm (in 35mm equivalent), but that's the price you have to pay for keeping a wide-aperture lens within a reasonable size. But the advantages of having this wide an aperture, makes up for the short focal range by a mile. Even at its maximum telephoto, the lens still offers shooting at the respectable F2.7, which most digicams can hardly match even in the wide end.
The ISO can be set to up to 12,800, but we wouldn't count on the images turning out usable at that point. At the back of the Samsung EX2F you can find a 3″ rotating VGA AMOLED, which should offer excellent sunlight legibility and great power efficiency, at least in theory.
The EX2F can also record 1080p video at 30fps and offers dual image stabilization.
Experienced photographers will appreciate the EX2F's full manual shooting mode and RAW option. The built-in Wi-Fi connectivity enables easy sharing of images on social networks or via email, as well as a few cool features like remote viewfinder.
The Samsung EX2F will hit stores in August for estimated $549.