Last year at the FPD International "one of the most notable events for display related industries in the world", Samsung showcased a 7″ AMOLED display with 1024×600 resolution. Now, a report claims that the display will be put into production in September with improved resolution of 1024×768.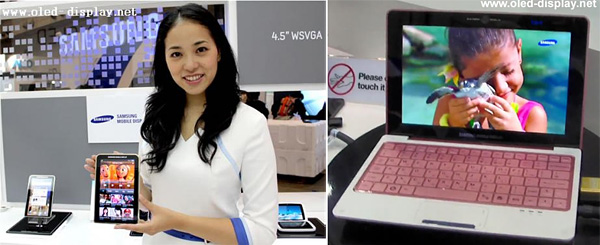 Their goal is to reach 720p resolution on 7″ panels eventually, which will offer 180ppi pixel density. The new display will make its way into tablets and maybe even small netbooks.
We first heard that Samsung may be working on a 7″ AMOLED tablet back in May last year, which would have given Samsung plenty of time to finalize the gadget. Over a year later, the Samsung Galaxy Tab 7 entered the rumor mill.
This could all be wishful thinking of course, but an AMOLED-packing tablet will offer excellent image quality (miles ahead of the vanilla TFT LCD of some current tablets). There's also some chatter that the 720p (that's 1280×720) resolution might debut on a 4″ screen phone, the Nexus Prime perhaps (HTC is working on a droid with a 720p screen too).
Source (in Korean) • Image source