The European Imaging and Sound Association deemed Samsung worthy of a multitude of awards this year, thanks to a host of top quality products from the Korean manufacturer, across the board.

In case you don't know, EISA is an association of 50 'specialist interest' magazines across 19 European countries who come together to award brands and manufacturers for outstanding products in their respective fields.
The awards are divided into six distinct categories: Audio, Video, Home Theater, Photography, In-Car Electronics and Electronics/Mobile Devices. Samsung were lucky enough to snap up four awards, all being best product in their respective category.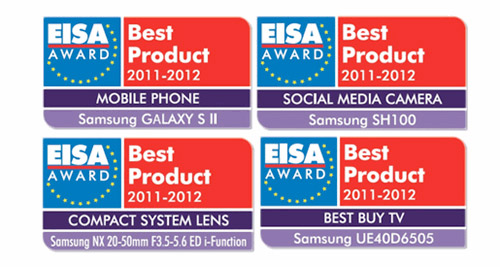 For best social media camera, the Samsung SH100 takes the cake. For best compact lens system, the Samsung NX 20-50mm F3.5-5.6 EDi-Function clinched it. For best buy TV, Samsung's UE40D6505 and most importantly for us, the best mobile phone across 2011-2012 was the Samsung Galaxy S II, a well deserved win if I may say so.
So in short we tip our hats, raise a glass and congratulate Samsung on their recent efforts and we can only hope that future Sammy products will impress us like they do now.