Hold your wild thoughts, guys. It's not exactly the sci-fi stuff you've may imagined. I'm sure Samsung will get there too, but for now it's only started manufacturing 22-inch transparent panels relying on ambient light instead of some kind of backlighting.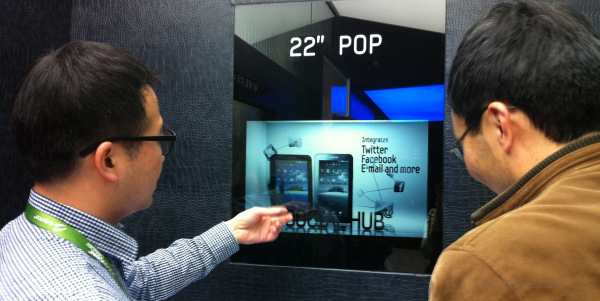 The 22-inch transparent LCD panel has 1680×1050 pixels resolution, HDMI and UDB ports. It has two models – a monochrome one with 20% transparency and a full-color one with 15% transparency.
This type of LCD panel uses 90% less energy than the regular one because it utilizes ambient-lighting instead of depending on own backlit source. Still, I can imagine that you need a strong light behind it to operate at the times when there's no natural light.
Samsung has plans to launch some backlit transparent AMOLEDs too, but they are still far away from entering mass production. It seems Horatio Caine and its CSI lab in Miami will keep the sci-fi factor for another season.
These videos show the transparent AMOLEDs, I mentioned: