There's plenty of rumors about the Galaxy S6 camera, now let's hear a teasing-but-vague word from the horse's mouth. Samsung is celebrating 15 years since it put a 0.3MP camera on the SCH-V200 with a post that traces the trajectory of the Galaxy S cameras, both front and back, over the years.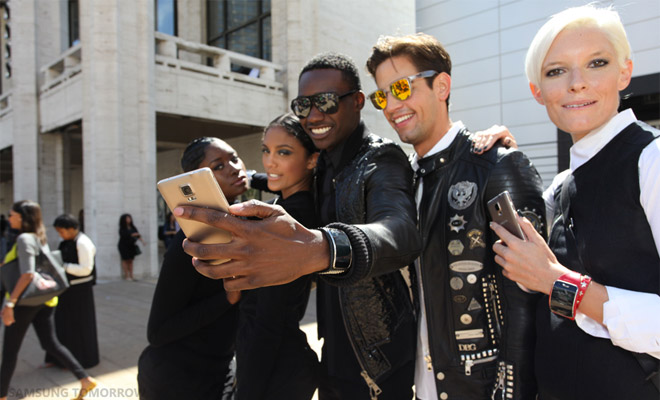 Samsung has taken on the challenge of making a camera module that produces good photos, but still fits in phones that become increasingly thinner.
It's an uphill battle, fighting the laws of physics, but Samsung has the advantage of controlling the hardware and the software development to squeeze out the best performance that it can. Sensors are tiny compared to professional cameras – as much as 50 times smaller – which makes keeping noise in check a challenge.
Noise is important for real-time HDR and phase-detection autofocus to do their job properly. The Samsung-made sensor in the Galaxy S5 offers just those features.
| | | | | | |
| --- | --- | --- | --- | --- | --- |
| Pixels | Galaxy S | Galaxy SⅡ | Galaxy SⅢ | Galaxy S4 | Galaxy S5 |
| Main Camera | 5MP | 5MP | 8MP | 13MP | 16MP |
| Front Camera | VGA | 1.9MP | 1.9MP | 2MP | 2MP |
The post goes on to recognize the importance of the front-facing camera. There has been little progress to the selfie camera since the Galaxy S II brought a 1.9MP selfie camera, mostly its video capabilities have improved. It records 1080p videos on the Galaxy S5, but that goes up to 1440p with the Galaxy Note 4.
Additional improvements there include a wide-angle 90° lens and a fast f/1.9 aperture. The Galaxy A series pushed the still resolution further, to 5MP, the rumor mill claims the Galaxy S6 will use that same camera.
Anyway, after wading through Samsung's history lesson, here's what the company has to say about its 2015 flagship:
It will be intelligent and do all the thinking for users, allowing them to take amazing pictures under any conditions, without having to worry about anything more than just pressing the shutter button.

It will demonstrate just how far Samsung has advanced smartphone cameras, and once again will open the creative side of our users for new ideas and new possibilities.

At Samsung, camera innovation continues.