The middle name of Samsung's Galaxy devices is "value-added". The latest batch of tablets fresh from CES, the Pro lineup, are getting a list of goodies so complex it comes in table form. That's for the new Galaxy Note Pro 12.2 tablet, but also the Galaxy Tab Pro tablets (12.2, 10.1 and 8.4).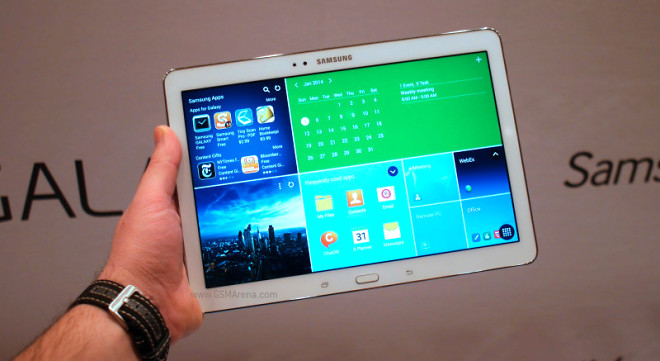 With these apps under its belt, the Pro tablet will be all set for cloud storage, social networking, organizational tools, news sites, creative and other tools.
Here's the table that summarizes what you get – note that some are only available on the two 12.1″ tablets and some (SketchbookPro in particular) work better with an S Pen (which only the Galaxy Note Pro has).
Content Gifts Offered Benefit and Availability*
| | |
| --- | --- |
| Services | Offers |
| Bitcasa | 1TB storage for 3 months |
| Bloomberg Businessweek+ | Free Subscription: 12 Months |
| Blurb | Free Coupon |
| Cisco WebEx Meetings | 6 month free subscription and unlimited meetings |
| Dropbox | Free 50 GB for 2 years (100GB for $99/year) |
| EasilyDo Pro | Free app purchase |
| Evernote** | 12 month free subscription |
| Hancom Office | Free Subscription |
| LinkedIn | 3 months of LinkedIn Premium Membership |
| LIVESPORT.TV | 6 month free subscription |
| NY Times** | Free Subscription: 12 weeks |
| Oxford Advanced Learner's A-Z | Free app purchase |
| Remote PC | 2 year free subscription |
| Sketchbook Pro | Free app purchase |
** Galaxy NotePRO (12.2) and TabPRO (12.2) only
SketchBook Pro is an app by AutoCAD maker AutoDesk and serves to replace a Wacom tablet for drawing by making full use of the S Pen's pressure sensitivity and other features (the tablet has its own Wacom digitizer).
You can pair that with Blurb (you get a $5 coupon for it) to handle your drawing and photography needs. It's a self-publishing platform that can create photo books and you can import from Samsung's Story Album app to get you started quickly.
On the business front, you get Hancom Office for document editing, Cisco WebEx Meetings for web conferencing, LinkedIn for business-centric social networking, subscriptions to BusinessWeek+ and NY Times.
Evernote and EasilyDo Pro will help you organize the whole thing. The Oxford Advanced Learner's A-Z dictionary will help non-English speakers.
Remote PC lets you use the tablet to access a remote computer (home or office) and control the mouse and keyboard (by the way, Samsung will be offering dedicated keyboards and mice for the Galaxy Pro tablets). This could be great if you forget to something but realize only after you leave your home or office.
And when the work day is done, LIVESPORT.TV will stream premium sport channels live.
Finally there's Dropbox and Bitcasa, which offer 50GB long-term cloud storage (2 years) and massive short term storage (1TB for 3 months, just enough to get you hooked).
You can check our hands-on with the four tablets for more details on them.