Samsung Galaxy S6 and Galaxy S6 edge were announced today in Barcelona. They both feature a new mobile service for payments called Samsung Pay and yes, you've guessed it right, is a competitor to Apple Pay.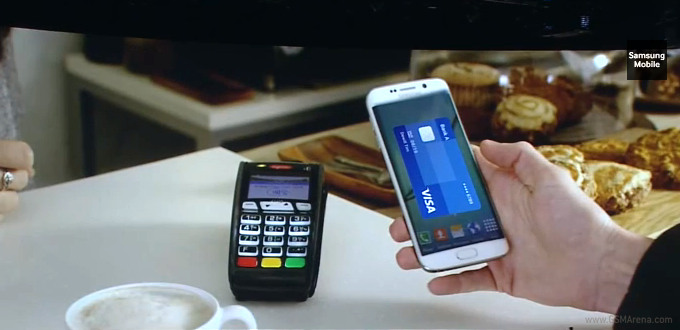 Samsung Pay works with NFC and a newly developed technology called MST – Magnetic Secure Transmission. The MST will allow the Galaxy S6 and S6 edge owners to use their phones on most of the existing terminals and merchants won't need to upgrade their payment solution.
Samsung acknowledges the mobile wallet adoption is going very slow and the company has found a new solution with the MST tech that requires little to no upgrade from current tech already installed at retailers.
Samsung Pay has already been certified by Visa and MasterCard. Samsung is teaming up with key financial institutions around the world such as American Express, Bank of America, Citi, JPMorgan Chase, and U.S. Bank, in order to provide more flexible services and coverage.
Samsung Pay is KNOX-secured, which means it's got a government-grade protection and the Galaxy S6 users should be OK with their personal data and finances.
According to Samsung, the Samsung Pay at its current state is potentially compatible with about 30 million locations worldwide, which means it is the most universal solution to date.
How it works? You are ready to use the service, as soon as you enter your card details into the Samsung Pay app. The payment process reportedly goes as follows – you open the app with a swipe on the screen bezel, you tap on the card you'd like to use and then you authenticate with your finger on the fingerprint scanner. The final step is to tap your device on the POS terminal.
Samsung has also updated its Find My Mobile Service, so in case you lose your phone you will be able to immediately log in, lock and wipe your device remotely.
Samsung Pay will launch in the USA and Korea this summer, and it will expand to Europe and China shortly after.