The P1000 Galaxy Tab has only just hit the shelves in a couple of European countries and Samsung is already working hard on another Android-running tablet. The Samsung P9100 is basically a Tab with a new design and slightly downgraded specs sheet, headed to the Japanese carrier KDDI.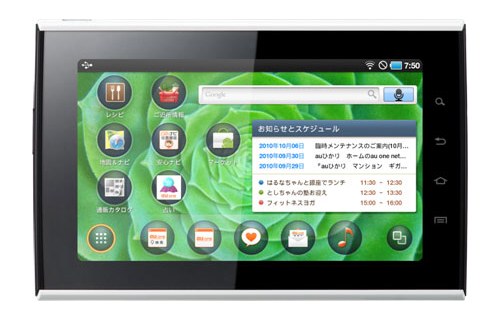 The Samsung I9100 retains the 7-inch WSVGA (1024×600) screen of the Galaxy Tab, but adds the Ocean Observation UI, which should be a better fit for the Japanese consumers. Samsung has dropped the front-facing camera and the primary one has been downgraded to 2MP resolution (as opposed to 3MP on the Galaxy Tab). The day-to-day battery life also took a pretty serious hit as it's reduced to measly 2 hours.
The internal memory of the I9100 is only 4GB, but luckily the microSD expansion slot is still on board. Fortunately, the CPU and the RAM have been left untouched so we should expect the same smooth performance from the I9100.
Samsung I9100 tablet should become available at the start of next year but it's pricing is still pretty much a mystery.