We are finally ready fellas – the full battery test of the Samsung I9100 Galaxy S II is complete. It took a week of extensive testing and comparing, but now we are ready to throw a load of numbers your way and hope they will be enough to quench your thirst.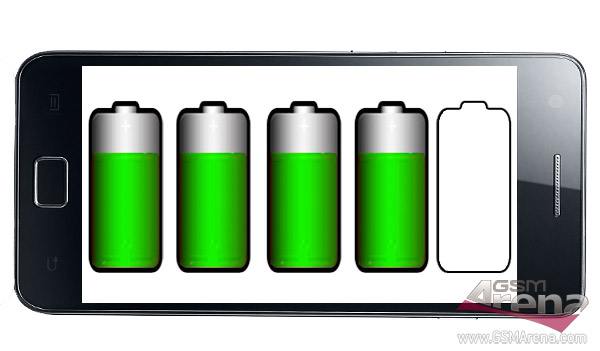 The Galaxy S II convinced us that it's a real beast during the review, but are the huge screen and powerful CPU and GPU too taxing on the battery? Well it turns out that they are not. The slightly larger battery (1650 mAh vs 1500 mAh) and the Gingerbread new, more aggressive stance against battery draining apps obviously have some effect and the Galaxy S II has a slightly better endurance than its predecessor, the original Galaxy S.

So, no, we cannot guarantee everyone will be happy with the Samsung I9100 Galaxy S II battery life, but those that were okay with its predecessor will feel even better with this one.
Cutting to the point, the Galaxy S II survived through 82 hours before its completely charged battery went flat. The handset was hooked up to a 3G network at all times and endured the following usage:
• 90 minutes video playback
• 2 hours music playback
• 40 minutes voice calls
• 30 minutes navigation
• 30 minutes general usage
• 10 minutes browsing
• 10 minutes shooting photo and video
• 20 min gaming (Angry birds, if you should know)
This is about equal or slightly better than the I9000 Galaxy S result from a year ago. The original Galaxy S lived for 2 hours longer, but we did no gaming on it back then. And since we believe 20 minutes of gaming is more taxing on the battery than two hours of stand-by – we'll consider this a victory for the S II, albeit by the slightest of margins.
Video playback test
The victory was more emphatic in the dedicated video-test that we run:
• Samsung I9100 Galaxy S II – 8:05 h
• Samsung I9000 Galaxy S – 7:25 h
In case you have missed it, you can find more details about our testing ways in this post.
Screen power consumption
By the way we decided to check what difference the larger display makes, so we know how much of a deficit the Galaxy S II faces at start and here's what we found. We locked the display brightness set to 50% and auto-turn-off disabled. The battery went flat in just 11 hours and 10 minutes. That's only 3 hours and 5 minutes longer than the video playback endurance, which suggests that the screen alone is responsible by more than half the Galaxy S II battery consumption.
For comparison the original Galaxy S did 12 hours and 35 minutes in the same still image test.
Web browsing
We also measured the endurance of the smartphone when browsing the web. The full details of the test are over here, but if you don't feel like reading them, here's a quick summary. The Galaxy S II does marginally better than its predecessor when using the stock browser as the GPU acceleration consumes some power and notably better if you use a third-party browser (Opera Mobile in our case).
• Samsung I9100 Galaxy S II – 4:59 h (Opera Mobile browser)
• Samsung I9100 Galaxy S II – 4:22 h (stock browser)
• Samsung I9000 Galaxy S – 4:06 h
Stand-by time
The final battery test we did was the stand-by time. With no usage whatsoever, the Galaxy S II was running for 9 days before it powered off. Now this is a decent achievement, but nowhere near the 25 days promised by Samsung.
And stuff…
An interesting finding was that activating the automatic sync doesn't seem to have such an effect on the Galaxy S II battery life as on some of the other droids we have used. In fact, its effect wasn't felt even on the stand-by time, which is unusual, to say the least.