We are pleased to welcome a real celebrity in our office. The Samsung I9010 Galaxy S Giorgio Armani is the seemingly perfect blend of smartphone muscle and high-end looks.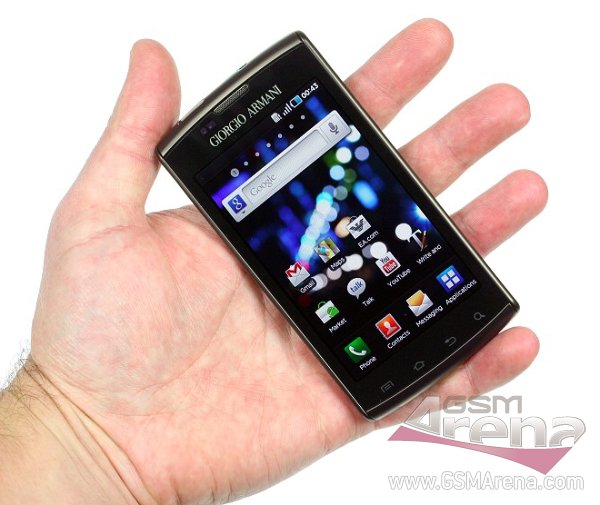 Carrying the Armani logo and combining the 1GHz processing power of the Cortex A8 CPU with the fastest growing operating system and the gorgeous 4" Super AMOLED display, the Galaxy S Giorgio Armani is a handset that simply cannot go unnoticed.
We are already hard at work on the full review, but until it is complete here's a quick video and some live shots to whet your appetite.
As you would expect, given the name, the I9010 Galaxy S Giorgio Armani comes in the fanciest box of all Galaxy S devices under the sun. We wouldn't say that it's exactly brimming with content as a charger, a data cable and a handsfree is basically all you get, but the materials used for the packaging are certainly nice.





Samsung I9010 Galaxy S Giorgio Armani at ours
The device itself has a real metal battery cover – something I have been waiting for since the first Galaxy S was announced. And the soft-touch plastic used for the rest of the I9010 body is way nicer than the glossy stuff that the I9000 got.
Except for the three preloaded promo videos, the different font used for the menu and a few wallpapers, the user experience that the Galaxy S GA offers doesn't differ from a regular Galaxy S updated to Froyo. That isn't necessarily a bad thing as it suggests some smooth performance, but maybe the nearly twice as high price tag warranted more exclusive content.
But let's not rush to any conclusions yet – we'll have plenty of time for that later. Now enjoy the video and feel free to post any questions that you want answered in the full review.