While we've had an endless marathon of reports surrounding Samsung's upcoming flagship, the Galaxy S6, as well as its all but confirmed curved variant, the Galaxy S Edge, detailing information such as specs, features, price, as well as the colour options. We even had one for the name courtesy of Vodafone, but now we learn it might not have been entirely accurate.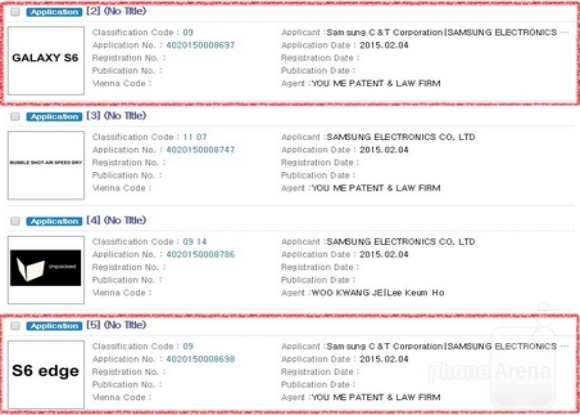 The South Korean company has got the names 'GALAXY S6′ and 'S6 edge' trademarked in South Korea (see image above) a few days ago, something which was first noticed by our friends at GalaxyClub.
What's worth noting here is that the name 'S6 edge' doesn't carry the Galaxy branding, although this could easily be a mistake by someone at KIPRIS (Korea Intellectual Property Rights Information Service), especially given that the word 'edge' also begins with 'e' in lower case, which also makes little sense.It also may not mean much in terms of actual naming – Samsung might just be protecting itself from competitors releasing an S6 Edge device, while still choosing to use the simpler S Edge for the actual product.
That said, Samsung has already sent out invites for its Galaxy Unpacked 2015 media event, scheduled for March 1, so all these doubts will be cleared up soon.