Starting today, Samsung Germany is offering their Neujahrsbonus cashback bonus program to all customers who purchase one of the participating Galaxy devices, including the Note 3, S4, S4 mini, Tab 3 8.0, and even the Galaxy Gear smartwatch.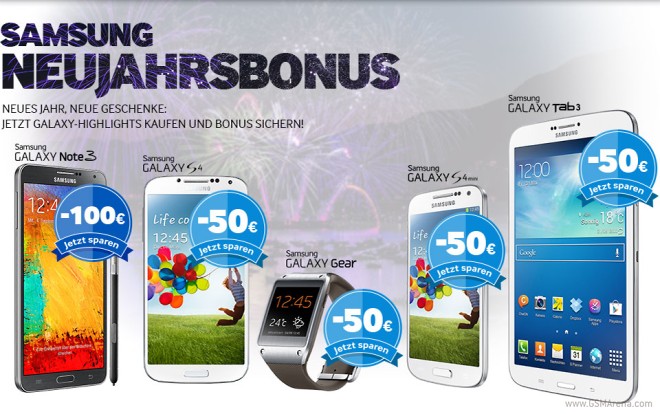 Now that's Christmas is behind us, this seems like another great reason for celebration by any potential Samsung device purchasers in Germany.
Depending on the device, you would get a different cashback bonus. Here is the breakdown:
Galaxy Note 3 – €100
Galaxy S4 – €50
Galaxy Gear – €50
Galaxy S4 mini – €50
Galaxy Tab 3 8.0 – €50
Between December 27 and January 5 simply purchase any of the five Galaxy devices from a participating online and brick-and-mortar shops. Then register your device within 14 days, and your cashback bonus will be transferred directly to your bank account.
The offer is limited to German residents only, and there's a limit of two units per household.
For more on the cashback bonus offer and information about participating shops, go to Samsung's Neujahrsbonus website.