This week, during the launch of the latest installment of the iconic TT Coupe, 115 Audi Centers all around UK will offer a unique virtual reality experience. Thanks to the power of the Samsung Gear VR headsets and Oculus technology showroom goers will be able to explore and experience Audi's new lineup in action.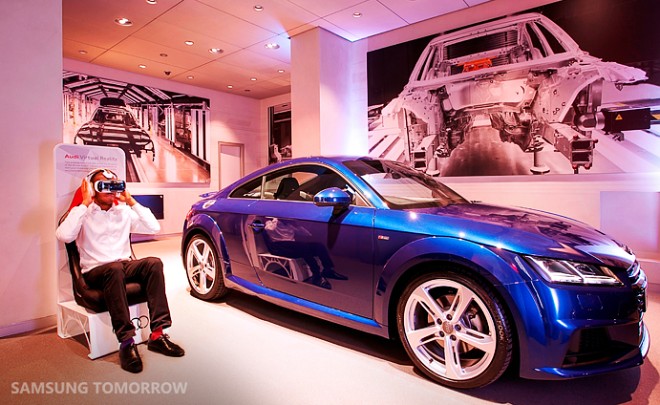 The demonstration itself is held entirely in virtual reality, thanks to Oculus coupled with the stunning Super AMOLED display of the Samsung Galaxy Note 4. In it Juergen Loffler, TT designer, offers a personal guided tour around all of the design and technological features of the car and tops it of by giving you the chance to go around the famous Neuberg race track.
The two variants of the car TT S Coupe and TT Roadster are both scheduled to arrive in spring 2015 and as it turns out Audi is not only revolutionizing the automotive industry, but is also pioneering in new and exciting marketing strategies.
Nick Ratcliffe, Head of Marketing for Audi UK had this to share about the campaign:
Audi broke new ground when it first introduced the TT back in 1998, so it is fitting that the new model is launched using cutting-edge virtual technology that showcases the car's beauty and power. We will become the first automotive manufacturer to install virtual reality in every one of our UK sales outlets.
This is yet another new and interesting experience that can be achieved through VR technology. The ability to almost be able to put the client it the seat of the new TTS is nothing short of an amazing imagination stir and comes to show how virtual immersion can prove to be a major game changer in an ever advancing technology-geared automotive future.