Samsung hasn't done the best job of the keeping the Gear VR under wraps, so it isn't surprising that images of the Gear VR's software was leaked.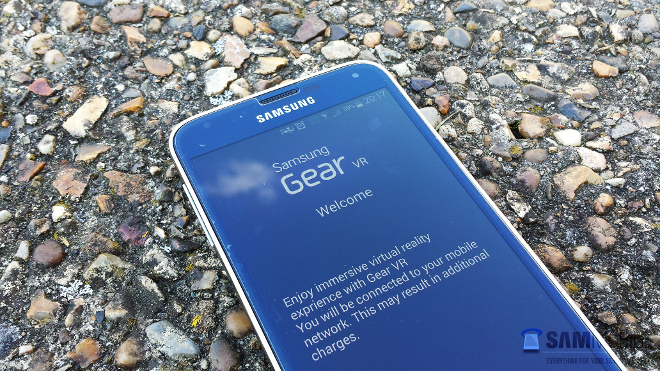 The leak suggests some initial apps that'll be launched with the Gear VR, along with the software's aesthetic.
The leaks certainly confirm that the Gear VR will work with a headset that uses your smartphone as the display. It'll most likely be similar to the experience of using Google's cardboard VR headset with your Android phone. Expect the device to only be compatible with Samsung smartphones.
Since the Gear VR uses a USB 3.0 connection to plug into your smartphone, this most likely means that only current Samsung handsets like the Note 3 and Galaxy S5 will be able to use the VR tech.
The leak also shows two initial apps that the Gear VR will immediately download after you install the VR software: "VR Panorama" and "VR Cinema." This suggests that users will be able to check out panoramic photos with the Gear VR, as well as enjoy more immersive movie experiences.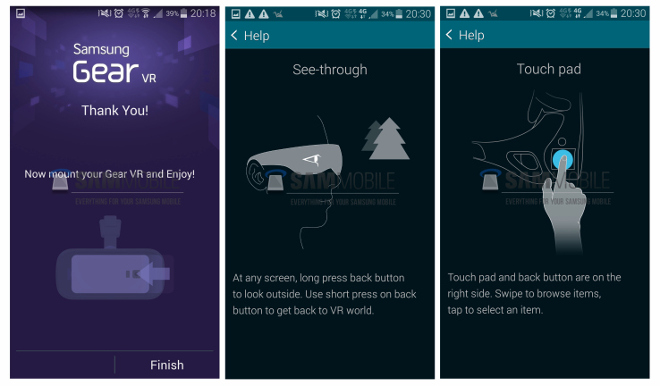 The Gear's rumored touchpad is also confirmed in the leak along with the hardware back button. The button will serve as a switch between the VR and Reality modes that you'll see through your headset. Reality mode will utilize the device's primary camera, and you'll be able to jump back and forth between the two modes. Voice commands seem to be on deck; you'll be using "Hi Galaxy" to start issuing commands. Also, the software will remind you every hour that you're still in VR mode, in case you become too immersed in the headset experience.
The headset won't be packing that much support out of the gate most likely, and will really need to bank on developers getting the brunt of the work done by creating awesome apps that entices users. Much of it will depend on the cost of the headset, which shouldn't be too high since your phone will really be doing all of the heavy VR lifting.