The Samsung Galaxy Camera GC100 managed the impossible – it's an Android-powered camera that actually went on sale, rather than remain in perpetual "announced" limbo. However, it might have company soon as a filing for Bluetooth certification revealed the GC110 model number.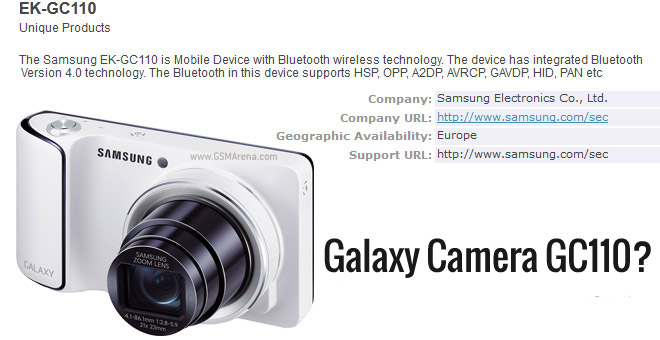 Unfortunately, info is very scarce – the filing came from Samsung (with Geographic availability listed as "Europe") and it's about Bluetooth 4.0 capability (which is what the GC100 has).
But what exactly would the Galaxy Camera GC110 be? The best bet at the moment is a Wi-Fi only version of the current Galaxy Camera model, which has 3G or LTE connectivity (depending on market).
It would make sense – the 3G-enabled Galaxy Note 10.1 has a model number N8000, while the Wi-Fi only Note 10.1 is N8010. Plus, the Galaxy Camera was announced alongside the Galaxy Note II and it's early for replacements of both these devices.
We'll be keeping an eye out at the MWC for the Galaxy Camera GC110, but we don't really expect it to be a new device.