The Samsung Galaxy Y Duos S6102 is a rare beast – an Android smartphone with two SIM card slots. Dual-SIM is typical feature phone territory and it's nice to get a break from that – with smartphones continuing to gain popularity, there should be a niche for devices like the Y Duos.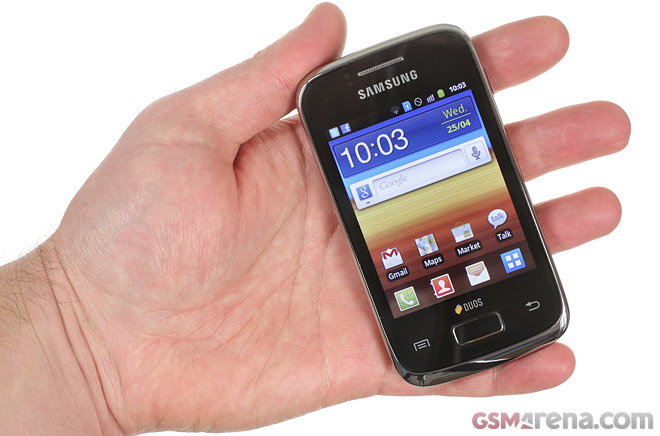 Based on the very popular Galaxy Y, the Y Duos S6102 comes from good stock. It's actually slightly upgraded over the original Y and it's not just because of the two SIM cards.
The Galaxy Y Duos is slightly bigger than its single-SIM sibling – it measures 109.8 x 60 x 12 mm and weighs 109 g – but it comes with a slightly larger screen – 3.14″ (up from 3″). Okay, that won't make a world of difference and it's still a QVGA resolution, but it's still something.
The camera got upgraded, too. It takes 3MP stills (the regular Galaxy Y has a 2MP snapper), but it still lacks autofocus. The camcorder shoots videos with QVGA resolution, but at least the framerate has been bumped to 24fps.
The real differentiating factor here is the second SIM card. Both slots reside under the battery, so SIM 2 isn't hot-swappable as it is on some competing dual-SIM phones. Both cards are hooked up to quad-band GSM radios and can be used for calls.
Only one of the cards can be the active mobile data card (that is, you can't use data from both SIMs simultaneously) and you should keep in mind that we could only get 3G connectivity on the one in the first SIM slot. Speaking of 3G, it's dual-band with 7.2Mbps HSDPA.
Update: After we spent a little more time with the Y Duos we found that actually BOTH cards can enjoy 3G connectivity, but again only one of them can be the active data card. That card will use 3G, while the other one goes into 2G mode.
Check out our unboxing and hands-on video for more details on the Samsung Galaxy Y Duos S6102:
That's it for now – but we're working on a full review of the phone, so we'll be back with more soon.