iSuppli has tore down the Samsung P1000 Galaxy Tab and found 205.22 US dollars worth of components (around 147 euro) inside it and estimated assembling costs some extra 9.37 USD. That's just over 30% cheaper than a 3G 16GB iPad, and much less than what it costs to the end user…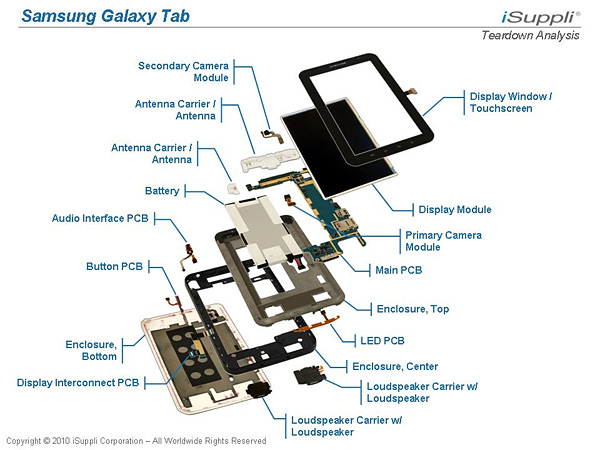 At their heart, both the Samsung Galaxy Tab and the Apple iPad are more or less an overgrown version of their respective company's top phone. iSuppli estimates that the biggest cause for the price difference between the iPad (264.27 USD) and the Galaxy Tab is the screen.
The iPad uses a bigger, higher-res screen (9.7" 1024×768) than the Tab (7" 1024×600), and Apple's tablet uses an IPS matrix that improves the image quality and viewing angles (as we found in our review, the iPad does have the edge in image quality over the Galaxy Tab).
The screen of the Samsung P1000 Galaxy Tab is priced at 57 USD versus the 98 USD price of the iPad screen. The Tab does have two cameras and a gyroscope over the iPad though. There are other things too in Tab's favor – double the RAM and microSD card slot for example.
Check out the full teardown and more detailed info on the components over at iSuppli.