LTE is reigning supreme at this year's CES and Samsung is one of the main reasons for that. The company unveiled a number of LTE-enabled versions of its smart devices and we are rushing to take them for a spin. We now have our first impressions of the Verizon-headed Galaxy Tab 7.7, and the AT&T-bound Galaxy Note.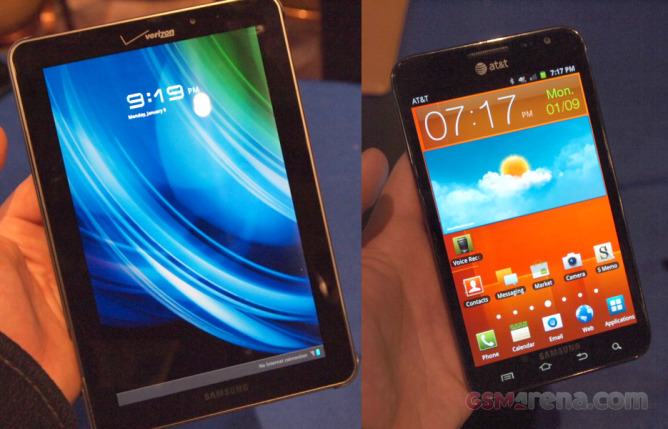 The changes that the AT&T Galaxy Note brings include a different chipset, LTE connectivity and the four capacitive buttons, which replace the two-touch-plus-one hardware combo that we saw on the international version. Verizon's Galaxy Tab 7.7, on the other hand trades the GSM/HSPA support for the speedier CDMA/LTE combo.
In case you need a refresh, the Samsung Galaxy Tab 7.7 features a 7.7-inch Super AMOLED Plus screen (1280x800px), Exynos platform (1.4GHz dual-core ARM Cortex-A9 CPU, Mali-400MP GPU, 1GB RAM), a 3 megapixel camera with HD video recording, 16/32/64GB storage and microSD slot. The thing runs on Android Honeycomb with TouchWiz modifications.
Here are some hands-on pictures of the Galaxy Tab 7.7 LTE:
If you want to learn more about the Galaxy Tab 7.7, check our preview article.
AT&T's Galaxy Note comes with a slightingly less powerful chipset than its international sibling, with the Cortex-A9 CPU replaced with a dual-core Scorpion processor, but you'd hardly be able to tell the difference in everyday use. And the LTE speed boost will probably more than make up for it. Here are some live pictures of AT&T's Galaxy Note:
You can find our in-depth Galaxy Note review right here.
There is still no info on the pricing and the exact availability of either gadget.