Samsung said it will be trying hard to expand its tablet market share in 2014 and it shows. The company already released a quartet of Galaxy Tab Pro tablets and the ultra low-end Galaxy Tab 3 Lite 7.0 and now we learn that a trio of fourth generation Galaxy Tab slates will be joining them shortly.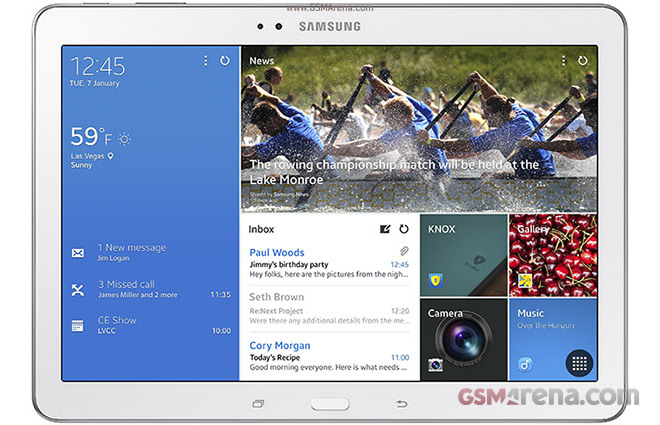 The Galaxy Tab 4 slates will bring quad-core 1.2 GHz processors to the series, better cameras and Android 4.4 KitKat and will come in three sizes – 7.0, 8.0 and 10.1. All three new slates will feature TFT displays of the modest 1280×800 pixels resolution. The connectivity departments will include Wi-Fi a/b/g/n, GPS with GLONASS a microSD card slot and an optional 3G/LTE radio. All new slates will come with Samsung's premium Hancom Office, E-Meeting and WebEx services plus the Remote PC app preinstalled.
The Samsung Galaxy Tab 4 10.1 will reportedly come with 1.5GB of RAM, a camera upgrade to 8MP, while keeps the same 6,800 mAh battery as on the Galaxy Tab 3 10.1. The model numbers of the Galaxy Tab 4 10.1 are SM-T535 (LTE), SM-531 (3G) and SM-530 (Wi-Fi).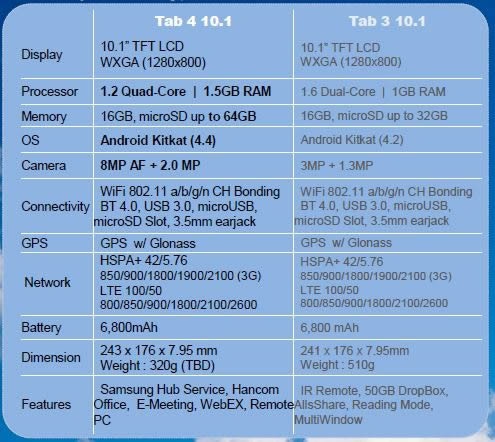 Samsung Galaxy Tab 4 8.0 will feature 1.5GB RAM for the LTE version or 1GB for the 3G/Wi-Fi models. Interestingly it is expected to downgrade the camera to 3MP (the Tab 3 8.0 has a 5MP cam), but will pack a bigger 6,800mAh battery. Its model numbers are SM-T335 (LTE), SM-T331 (3G) and SM-T330 (Wi-Fi).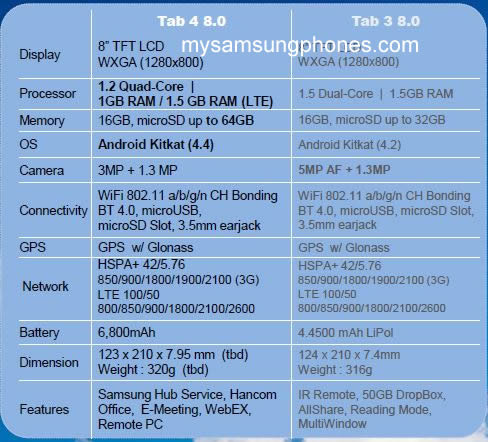 Finally, the Galaxy Tab 4 7.0 is rumored to pack 1GB of RAM, a 3MP camera and a 4,450 mAh battery. It will come in SM-235 LTE version, SM-231 3G-enabled model and SM-230 is the Wi-Fi only variant.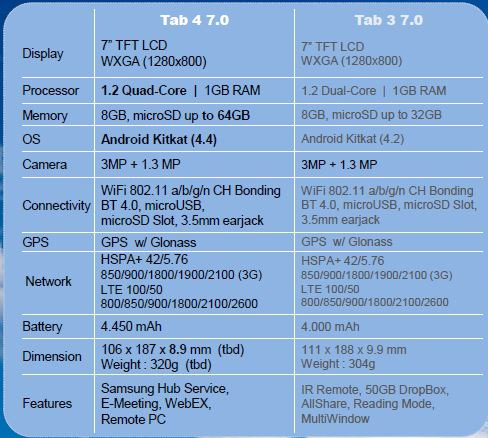 There's a slight chance that the new slates go official at the MWC in Barcelona in a few days, but it's more likely that Samsung delays them a while longer, making its presence at the industry's largest event all about the Galaxy S5.