Samsung and Barnes & Noble announced a partnership that should have come to fruition in early August. However, it's early August already and the Galaxy Tab 4 Nook is nowhere to be seen. A press invite for August 20 means things will finally get a move on later this month.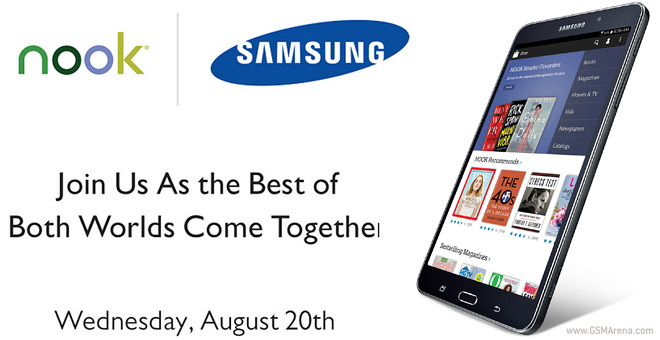 Samsung and B&N will be hosting the event at the Barnes & Noble in Union Square, New York.
The Samsung Galaxy Tab 4 Nook is based on the Galaxy Tab 4 7.0. It will sport a 7″ screen with 1,280 x 800 resolution. It's a TFT though, unlike the eInk-based Nooks. The tablet is powered by a quad-core processor and runs Android but B&N will be swapping out TouchWiz with its own custom software.
The book retailer already has some experience with Android tablets (Nook HD and HD+) but will let Samsung do the heavy lifting on the manufacturing. We expect to hear launch date and pricing info from the event, since those weren't announced alongside the tablet itself (just FYI the vanilla Galaxy Tab 4 7.0 goes for $180).