The Samsung Galaxy Tab 3 Lite 7.0 has a mouthful of a name but its specs sheet is modest at best. It's a toned-down version of the Galaxy Tab 3 7.0, bringing a lower-end processor and camera while featuring larger dimensions.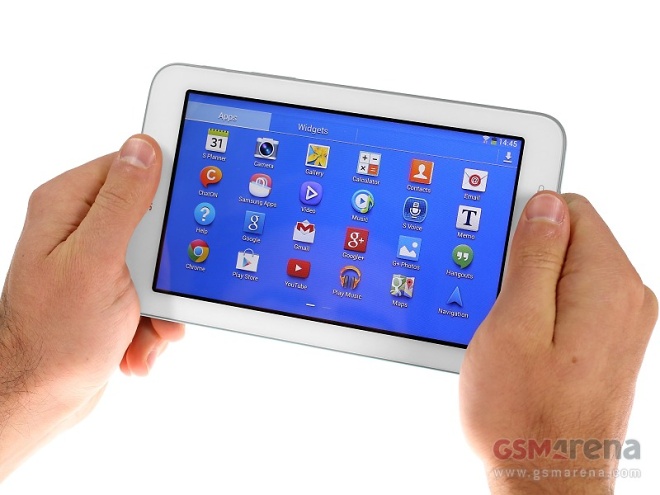 The device also does away with the front-facing shooter and calling capabilities, but retains the 1024 x 600 screen, TouchWiz on top of Android 4.2, and is in the same price range at launch. Hovering around $200 or €145 for the Wi-Fi only version it's a low-priced couch surfer, but one with heavy competition.
For starters lets have a quick look at the Galaxy Tab 3 Lite 7.0 in our video rundown:
The Tab 3 Lite 7.0 is advertised as a Black and White device but ours came in a Cyan, which does look much fresher in comparison. It does look a bit like its more formidable siblings in the upper-end of Samsung's tablet lineup but lacks the soft-touch leather-like back and goes for a more conventional textured plastic.
The front is covered in glass and has only one physical home button to upset the flatness.
Weight-wise this one stands at the very acceptable 310 grams and won't leave your hand numb after extended use, which is a must for any compact slate these days.
Software-wise, the Galaxy Tab 3 Lite sheds the premium multitasking feature Multi Window and fancy things like Samsung's Group Play – those are reserved for the top dogs, and will likely have issues here, due to the underwhelming chipset powering the Tab 3 Lite. There was some noticeable lag at times with even mundane tasks like switching from landscape UI to portrait and back. But then again, that could be expected given the price range.
Stay tuned for the complete scoop of the affordable slate in our review, which is coming early next week.