Samsung must really love the Garnet Red color – first the Galaxy S III got that color option, then the Note II and the Galaxy S III mini followed suit and now it's turn for the Samsung Galaxy Tab 2 7.0. It's a special edition that will arrive just in time for a Valentine's day gift.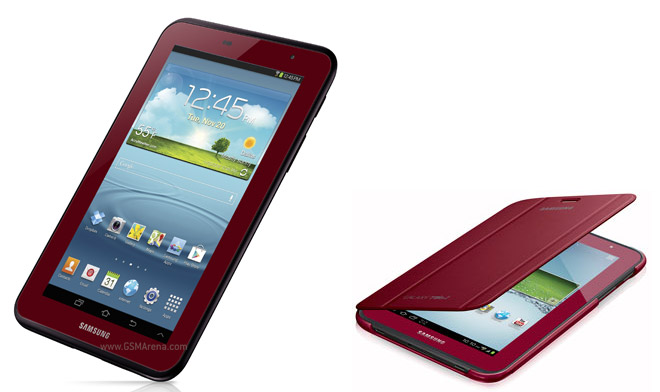 The Galaxy Tab 2 7.0 Garnet Red Edition comes with Android 4.1 Jelly Bean out of box (the base model got it as an update) and Samsung is throwing in a matching Garnet Red book cover (those go for $50 if bought separately).
Other than that the device is unchanged – you still get a 7" 1024 x 600 PLS LCD screen (170ppi), dual-core Cortex-A9 CPU and PowerVR SGX540 GPU, microSD card slot and built-in IR remote.
The Samsung Galaxy Tab 2 7.0 Garnet Red Edition will be available at Amazon.com, Walmart, Office Depot, Fry's, Tiger Direct, Toys"R"Us and other retailers for $220 (keep in mind the $50 cover that comes with it). It's a limited edition, so it will be available while supplies last. The black and white versions are available as usual ($200, a red book cover is available for $50).
The hardware is a bit old, so before you decide to get one, you should take a look at the Nexus 7 ($200, 216ppi screen, quad-core CPU, no microSD card slot) and the Barnes & Noble Nook HD ($200, 243ppi screen, heavily customized UI). Neither of them is available in red though.