The Samsung Galaxy S III mini stops by our office for a second time – the first time we did a preview and we'll do a full review now. Before we start, we put it in front of our camera and give you a quick reminder of what the S III mini offers.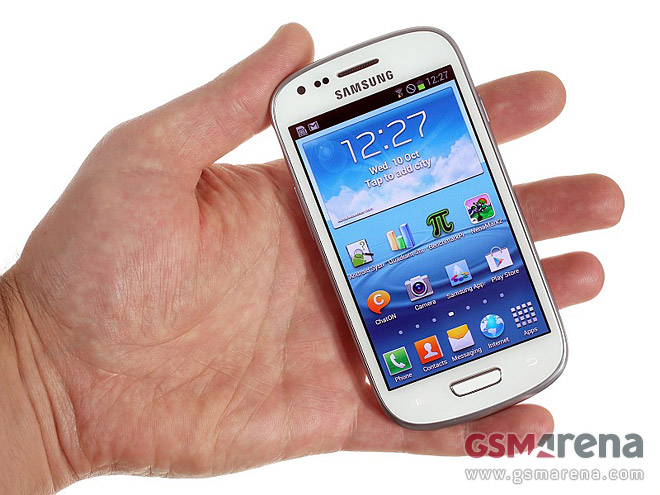 In a "Honey, I shrunk the kids" moment, Samsung took the Galaxy S III and created a mini version of it, dropping the screen size from the pocket-busting 4.8" to the much more manageable 4".
If you're thinking that the original Galaxy S had a 4" Super AMOLED screen, you're right, of course. Unfortunately, Samsung seems to have used the exact same screen, PenTile and all. The Galaxy S III mini also took a step back in the processing and camera departments compared to its large namesake.





Samsung Galaxy S III mini • S III mini next to the big S III
Still, the Samsung Galaxy S III mini runs Android 4.1 Jelly Bean with the same Nature UX customizations that the S III got. The NovaThor chipset with two 1GHz Cortex-A9 cores is fast enough to run the software smoothly, and we have no complains about the gig of RAM either.




Samsung Galaxy S III mini box and contents • SIM and microSD card slots
Also, Samsung didn't cut corners when it comes to accessories or built-in storage (8GB/16GB). There's a microSD card slot too. The price seems steep compared to the likes of the HTC Desire X and Sony Xperia P, but maybe there's more to it.
Does the mini really deserve to call itself "Galaxy S III"? It certainly has the looks for it, but so does the Galaxy Premier and that has better specs (though it's virtually the same size as the big S III). We'll have an answer to that question at the end of the review, so check back with us to find out.