The Samsung Galaxy S II is getting updated to Android Gingerbread 2.3.6. Three UK have also confirmed 2.3.6 for the original Galaxy S but it won't come before January.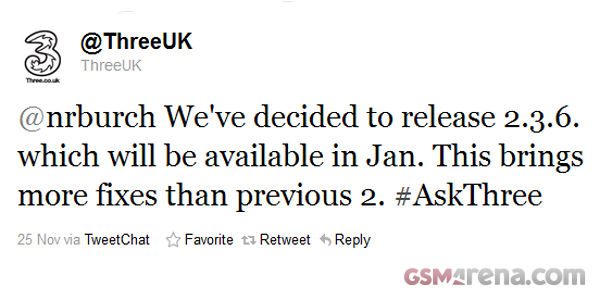 We've received a report that the Galaxy S II has already received the 2.3.6 update via Kies software. The first reported country to receive the update is Mexico but users elsewhere around the globe should receive it soon I guess.
The UK Galaxy S has recently received version 2.3.5 and according to Three UK Twitter account the device will be getting 2.3.6 in January at the latest
The statement comes after an inquiry from a user, who complained that 2.3.4 and 2.3.5 are already out yet they haven't been seeded for Three's devices. Three UK's answer was that ver. 2.3.6 will be released in January and that it's better than the previous two so the wait should be worth it.
Thanks, vijay and joseph for sending these in!