Yesterday we attended at the Samsung event in NYC, which saw the landing of three new Galaxy devices on the US shores. The Galaxy Tab 8.9 wasn't particularly interesting to us as we have already previewed it, but that was our first encounter with the Galaxy Player 5.0 and Galaxy Player 4.0 Android-running PMPs.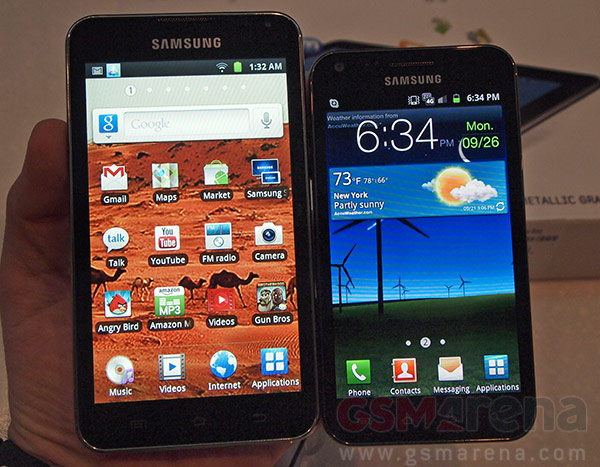 So here we are bringing you a batch of live photos of the two along with some quick impressions of them.
Not that there is all that much to tell you about the players – they are just two phone-less versions of the Samsung Galaxy SL. The Player 4.0 comes with a 4″ screen and a 1200 mAh, which should still do fine with no GSM and 3G radios to drain, while the 5″ Galaxy Player 5.0 has a 2500 mAh monster of a battery.
The 8GB of storage that the two PMPs offer might seem quite modest to you at first, but you should remember that they have microSD card slots so you can expand that. Given that the Galaxy S was compatible even with the newly released 64GB microSD card, we guess those two will handle whatever you throw at them as well.
The user experience is great, with the TouchWiz-enhanced Android Gingerbread feeling smooth and offering great functionality. All in all we feel you'd be getting good value for your money – the Player 4.0 costs just $229, whereas the 5.0 is $269.