At this point we shouldn't be more than a month and a half away from the Samsung Galaxy Note official Android 4.0 ICS update, but how about getting a little preview of what's to come? The first ICS 4.0.3 ROM for the phoneblet just leaked and we even managed to install in on a Note we had lying around and test it.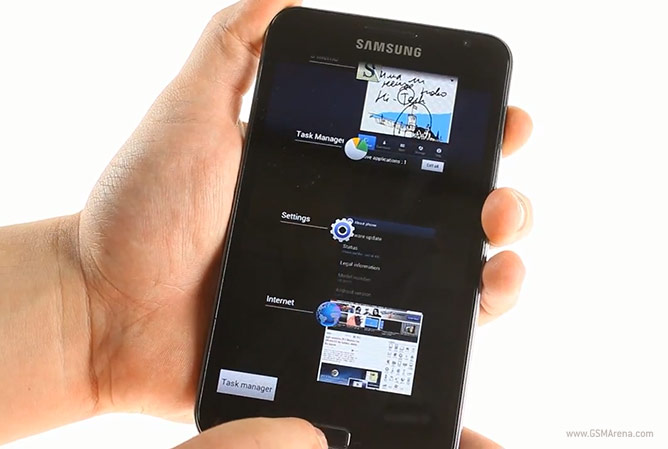 As you will see in a bit, the ROM is really stable and snappy and seems good enough for everyday use. All the hardware is supported, including the S Pen.
However, since it's a Chinese release it comes without support for a Google account, which means no Android Market, so maybe it would be best if you wait for the official release or at least another leak.
Of course, one of the greatest bits about Android is that you can easily sideload apps, but you don't want to be doing that all the time.
Now let's move to the main course – the hands-on video of the new ICS ROM running on a Galaxy Note.
Even though TouchWiz masks most of the visual changes that Android 4.0 brings, there's plenty of new functionality here. The new web browser is a huge improvement in terms of both speed and functionality over the Gingerbread one, while the new recent task screen is both easy to use and nice to look at.
The notification area has also seen some modifications, including the helpful feature to remove notification by side-swipes. It also seems Samsung will have a couple of nice surprises for us. While digging into the setting mode we noticed two new options – the first of those enables the displaying of the battery percentage over its icon, while the other improves one-hand usability of the Note by making keyboards use just a part of its screen.
Sadly, the one-hand thingy only works in the calculator for now, while the battery percentage is not functional at all. The S Pen gestures are all here though, even though it's a bit sad that the cool stylus got no new functionality.
If you want to give the ICS ROM a try, you should check out this topic over at the XDA-developers forum. The files required for the flashing are all there for the taking and you might find some helpful tips too.
As usual, impressions and questions are more than welcome in the comment section below.