Samsung is looking for applications for its bendy Super AMOLED screens and while it was mostly for show on the Galaxy Round, the Galaxy Note Edge challenges the rule of flat-screened UI of smartphones with its unique Edge screen.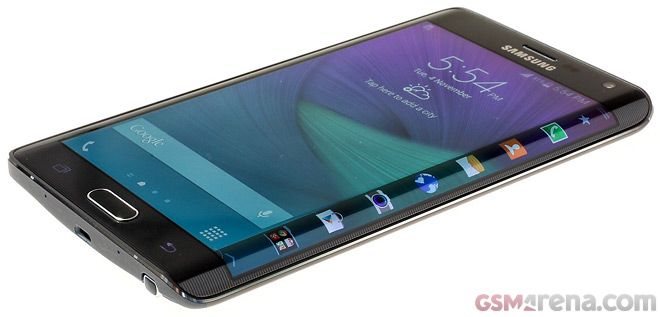 The right side of the screen bends around to the side of the device and while it's technically a part of the screen, it acts as a separate, utility screen.
The Samsung Galaxy Note Edge is roughly the same size as the Galaxy Note 4. It's wider due to the Edge screen and the main display is slightly smaller. The extra width isn't ideal when it comes to holding the phablet, but Samsung has included palm-rejection tech to prevent accidental presses.It's a rather large device and reaching all corners of the screen is tricky, especially if you have small hands.
The Edge screen is positioned on the right, which works well for holding it in the right hand, but reaching it with your left thumb isn't impossible. Screen rotation in some apps lets you flip the Galaxy Note Edge upside down and effectively move the Edge screen to the left.
In terms of functionality this utility screen opens plenty of possibilities. It can show out of the way info – whether its tweets, stock quotes or even your schedule – or it can act as a shortcut panel. This has a greater effect on multitasking than you might thing at first.
Tapping on different apps to switch between them feels desktop-like and since you can swap between Edge screen panels you can quickly check your calendar, skip a song and launch several apps, all without leaving the current app.
The curvature of the Edge screen puts it roughly on the right side of the phablet, or it could be top or bottom depending on orientation. This allows the camera app to create an almost side-mounted virtual shutter key, but each app can have its own layout. If the Note Edge is a success side keys will go the way of the hardware keyboard.
The rest is pretty much a Galaxy Note 4 – the trademark S Pen is the same size and has the same functionality, the TouchWiz software package is practically the same (including the Multi-Window and floating app multitasking options) and so on.
Some minor details have changed, like the Power key moving to the top (since the right side is occupied). Topside is not a good place for buttons on such a large device, we would have preferred it if Samsung put it on the left.
The metal frame has been twisted a bit to accommodate the Edge screen, but the Galaxy Note Edge has the same faux leather back as the Note 4 and feels just as premium.