We are no strangers to the Samsung Galaxy Note 8.0. Although the product is yet to be officially announced, we have heard about it and even seen it a few times in the past.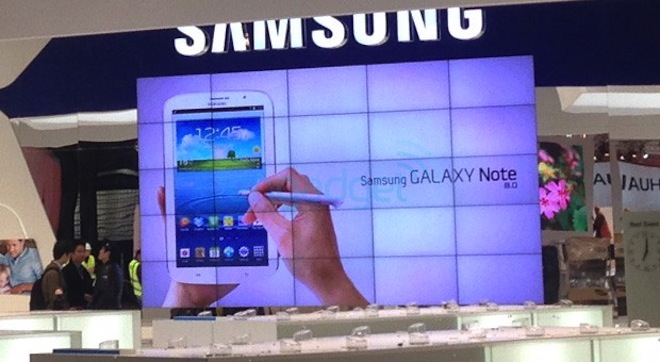 The tablet was rumored to be unveiled officially at the Mobile World Congress this year. The rumors, it seems, were true, as was noticed by one of the show goers, who managed to snag a picture of the tablet at Samsung's booth prior to official announcement.
There are no official specs yet but as the name suggests the device would have an 8.0-inch display, likely with a 1,280 x 800 pixel resolution. On the front we can see physical back and menu buttons below the display and although a Home button is not visible it could be just because of the lighting. Also, as one can expect from a device from the Samsung Note series, there is an capacitive inductive S Pen stylus.
We should get more details about this tablet when MWC kicks off on Monday.
Update: There is now a video courtesy of androidnext. Unfortunately, the video is taken from a distance, so we don't see too much of the device as of yet but it gives a slightly better idea of the device's size and a quick look at the back.