The Samsung Galaxy Note 4 adopted the metal frame of the Galaxy Alpha but disassembling it doesn't seem too hard if you know what you're doing. The metal frame comes off with the back side of the device and brings the antennas with it. The middle part is the motherboard, which houses a collection of sensors and chips.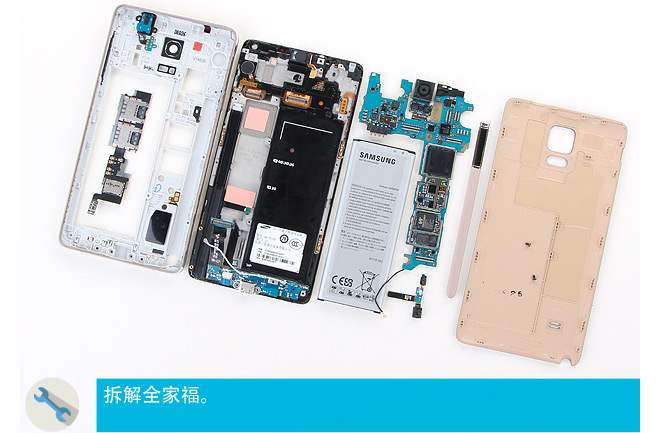 One of the more interesting discoveries from the internals of the Galaxy Note 4 is the confirmation that the 16MP optically stabilized camera uses a Sony IMX240 sensor, rather than the 16MP ISOCELL sensor made by Samsung. The camera assembly also holds the ambient light sensor and the proximity sensor.
This version of Samsung's flagship phablet is a dual-SIM, the slot shares an assembly with the microSD card slot. There's also the traditional Wacom chip for the touchscreen and S Pen handling, an auxiliary Cortex-M4 processor and finally 3GB of RAM stacked on top of the Snapdragon 805 chipset.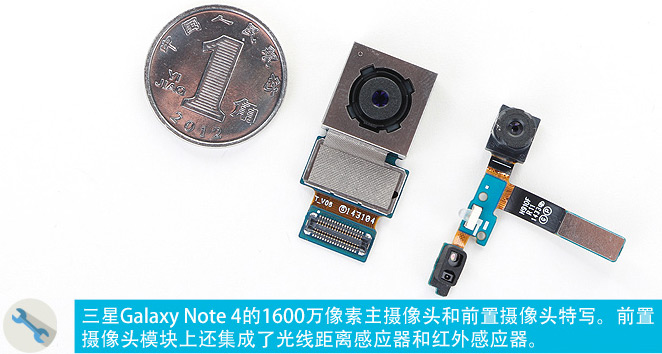 A Silicon Image chip provides MHL 3.0 functionality to the microUSB 2.0 port for 2160p@30fps video out and support for interface devices (keyboards, mouse).