Samsung is obviously finding it hard to keep the revamped Galaxy Note 10.1 under wraps. The slate was announced back on the MWC in February, but never made it to the shelves and was returned to the company's R&D center for a specs overhaul instead.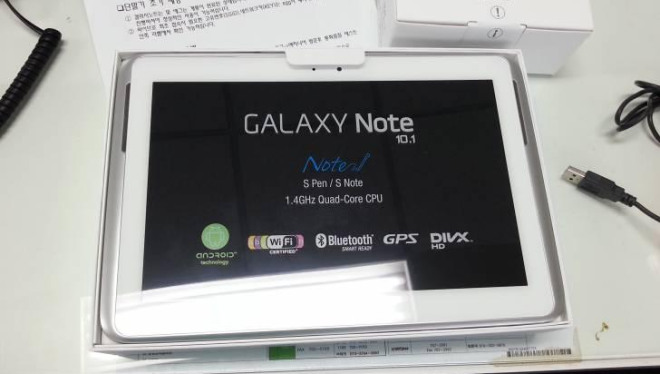 It was just yesterday when we saw the Galaxy Note 10.1 S-Pen ad on YouTube. Today, some lucky guy from Korea managed to get a retail Galaxy Note 10.1 unit and was kind enough to share the unboxing pictures and the official specs of the slate with the rest of us.
Just as expected, the Samsung Galaxy Note 10.1 now runs on the Exynos 4412 chipset (the one that powers the Galaxy S III), sporting a 1.4GHz quad-core processor. The RAM has been upped to 2GB, while the rear camera has been upgraded to 5MP resolution. The 1.9MP front camera and a 7000 mAh battery haven't received any updates.





Samsung Galaxy Note 10.1 unboxed
The slate has a 10.1-inch 1280×800 PLS display and runs Android 4.0 ICS – despite the delay the slate won't be getting to taste Jelly Bean out of the box.
We expect the Galaxy Note 10.1 to be (re)unveiled in New York on August 15. Keep in mind the Galaxy Note 10.1 specs quoted here are for the Korean version and the international one might be slightly different. I guess we'll find out soon enough.