Tizen OS was thrown into the fray at the Mobile World Congress in Barcelona right away as Samsung announced the Gear 2 and Gear 2 Neo smartwatches.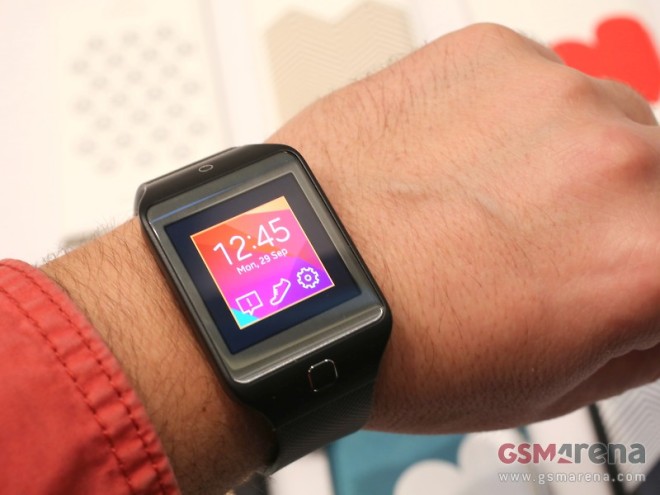 The Gear 2 and Gear 2 Neo are pretty similar devices but the Neo omits the 2MP camera, for a reduced weight of 55g. The Gear 2 will weigh 68g.
The two Tizen-powered smartwatches were unveiled at a pretty classy presentation. The Gear 2 will come in Charcoal Black, Gold Brown and Wild Orange, while the Neo will skip the Gold Brown for Mocha Grey.
The Gear 2 and Gear 2 Neo come with exchangeable straps in varying colors – both Samsung-made wrist straps and third-party options will be available. The smartwatch bodies themselves available in a number of paint jobs, there's plenty of potential for mixing and matching. The straps have a nice rubber texture feel to them, while the watch itself fits nicely on the wrist. The wrist strap has been stripped of controls – the camera on the Gear 2 has been moved to the body, as have the IR blaster and the microphone.
The Gear 2 and Gear 2 Neo have a 300mAh battery (as opposed to the 315mAh unit on the Galaxy Gear) and promise 2 – 3 days of standby time with regular usage, up to 6 days of if used sparingly. The touchscreen is the same 1.63″ AMOLED unit while the dual-core processor has seen a slight bump in clockspeed from 800MHz to 1GHz. There's 512MB of RAM and 4 gigs of internal storage.
Both watches are IP67-certified for dust and water resistance.




Wrist strap sans the 2 MP camera
This year's Gear lineup will feature a heart-rate monitor and a fitness app, while the IR port will allow remote control of various appliances. There will also be a music player on board.
The smartwatches are less dependent on their smartphone counterparts. With things like a built-in music player and a stand-alone fitness app, users can go about their exercise routine without carrying a smartphone.
Both smartwatches will be coming this April but still no word on pricing.